Date
Saturday September 10th, 2016
Time
7:30pm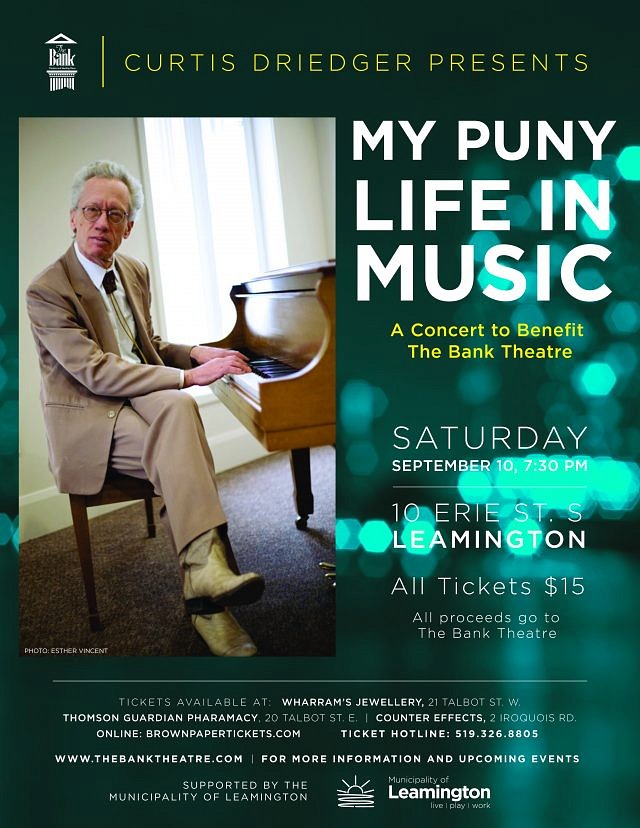 Please join us at The Bank Theatre and Meeting Place, 10 Erie Street South, Leamington, on September 10th at 7:30 pm as Curtis Driedger presents "My Puny Life in Music".
Curtis Driedger is an accomplished musician living in Peterborough, where he plays regularly. He returns to Leamington, his home town, for this concert to benefit The Bank Theatre and Meeting Place. Enjoy his versatility as he plays the piano, as well as the mandolin, guitar and violin.
Tickets are $15 and are available at Wharram's Jewellery, 21 Talbot Street West; Thomson Guardian Pharmacy, 20 Talbot Street East, and Counter Effects, 2 Iroquois Road.
Tickets are available online at brownpapertickets.com.
Ticket hotline is 519-326-8805.
Website: www.thebanktheatre.com.
Location
The Bank Theatre and Meeting Place
10 Erie Street South
Leamington, Ontario