Date
Sunday May 28th, 2017
Time
10:30am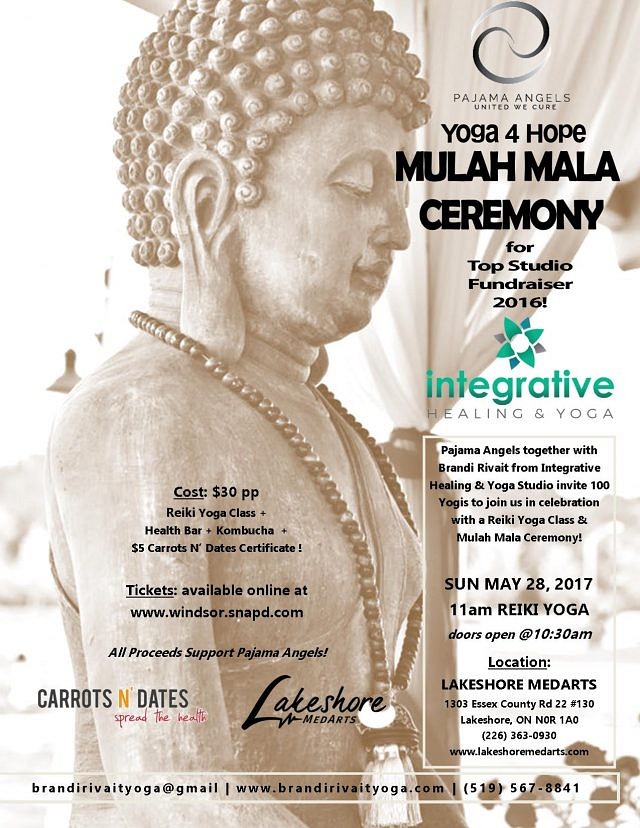 Pajama Angels together with Brandi Rivait from Integrative Healing & Yoga Studio invite 100 Yogis to join us in celebration with a Reiki Yoga Class & Mulah Mala Ceremony!
No Yoga Experience Necessary- Everyone is welcome to attend.
Come and Celebrate Brandi Rivait Yoga and her studio's efforts in being TOP STUDIO FUNDRAISER for Yoga 4 Hope 2016.
They raised $3620.00 for Pajama Angels.
SUNDAY MAY 28, 2017
11am REIKI YOGA
doors open @10:30am
Location:
LAKESHORE MEDARTS
1303 Essex County Rd 22 #130
Lakeshore, ON N0R 1A0
(226) 363-0930
www.lakeshoremedarts.com
Cost: $30 pp
Reiki Yoga Class + Health Bar + Kombucha +$5 Carrots N' Dates Certificate for each participant.
Tickets: available online at SnapD Windsor
https://windsor.snapd.com/#/events/view/1030264
All Proceeds Support Pajama Angels!
For further Info Contact: Brandi Rivait
[email protected] | www.brandirivaityoga.com | (519) 567-8841
***Bring Your Own Mat
Location
Lakeshore MedArts
1303 Essex County Rd 22 #130
Lakeshore, Ontario