Date
Tuesday November 10th, 2015
Time
7:00pm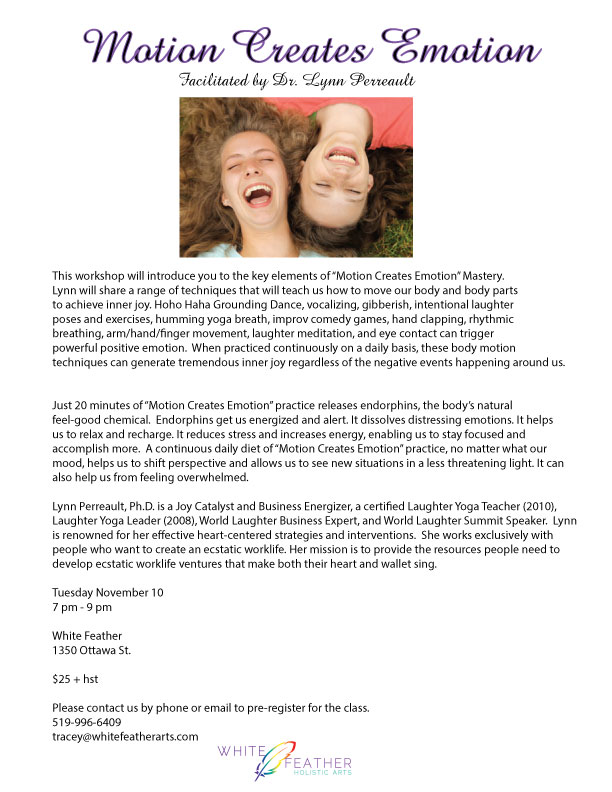 This workshop will introduce you to the key elements of "Motion Creates Emotion" Mastery. Lynn will share a range of techniques that will teach us how to move our body and body parts to achieve inner joy. Hoho Haha Grounding Dance, vocalizing, gibberish, intentional laughter poses and exercises, humming yoga breath, improv comedy games, hand clapping, rhythmic breathing, arm/hand/finger movement, laughter meditation, and eye contact can trigger
powerful positive emotion. When practiced continuously on a daily basis, these body motion techniques can generate tremendous inner joy regardless of the negative events happening around us.
Just 20 minutes of "Motion Creates Emotion" practice releases endorphins, the body's natural
feel-good chemical. Endorphins get us energized and alert. It dissolves distressing emotions. It helps us to relax and recharge. It reduces stress and increases energy, enabling us to stay focused and accomplish more. A continuous daily diet of "Motion Creates Emotion" practice, no matter what our mood, helps us to shift perspective and allows us to see new situations in a less threatening light. It can also help us from feeling overwhelmed.
Lynn Perreault, Ph.D. is a Joy Catalyst and Business Energizer, a certified Laughter Yoga Teacher (2010), Laughter Yoga Leader (2008), World Laughter Business Expert, and World Laughter Summit Speaker. Lynn is renowned for her effective heart-centered strategies and interventions. She works exclusively with
people who want to create an ecstatic worklife. Her mission is to provide the resources people need to develop ecstatic worklife ventures that make both their heart and wallet sing.
Tuesday November 10
7 pm – 9 pm
White Feather
1350 Ottawa St.
$25 + hst
Please contact us by phone or email to pre-register for the class.
519-996-6409
[email protected]
Location
White Feather Holistic Arts
1350 Ottawa Street
Windsor, Ontario