Date
Thursday August 18th, 2016
Time
7:00pm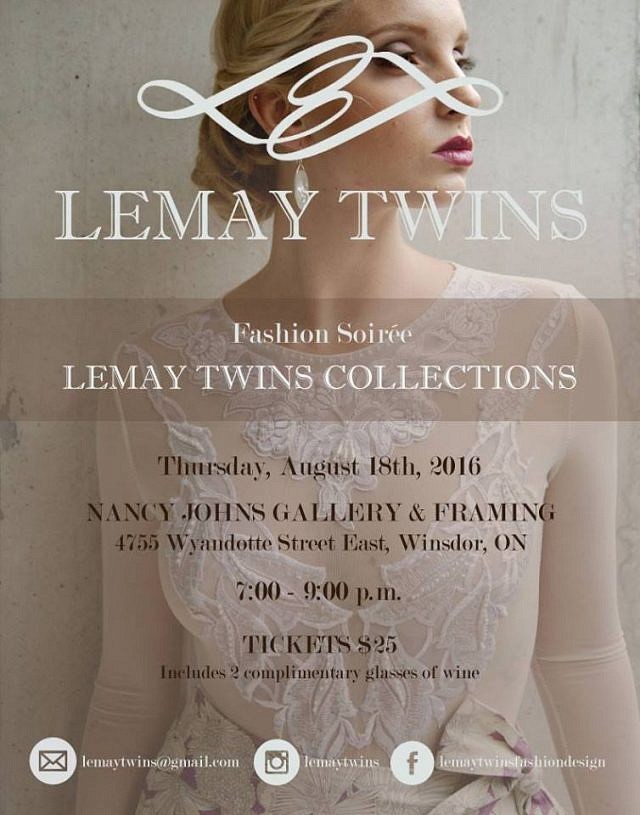 You are cordially invited to attend the Lemay Twins premiere Windsor runway show! All of the Lemay Twins garments will be displayed, from their legacy collections to their newest lines.
For ticket information please contact Lemay Twins by:
E-mail: [email protected]
Facebook: lemaytwinsfashiondesign (Private Message please)
Tickets $25 (Includes 2 complimentary glasses of wine)
Also featuring:
Fine Art by Nancy Johns
Handcrafted Jewelry by Greg Dehetre
Collage Glass Jewelry by Julie Bell
Statement Jewelry by Megan Cornwall
Selection of Wine (cash bar) by Sprucewood Estates Winery
We hope to see everyone there!
Dhayna & Nicole Lemay
Lemay Twins
Location
Nancy Johns Gallery & Framing
4755 Wyandotte Street East
Windsor, Ontario