Date
Sunday December 1st, 2013
Time
10:00am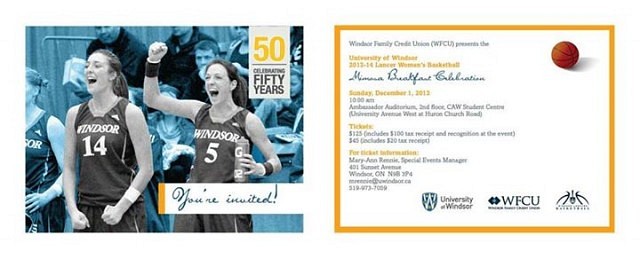 You are invited to the 2013-2014 Lancer Women's Basketball Mimosa Breakfast (Presented by WFCU). This will be our 7th annual Mimosa Breakfast that serves as our major fundraising event of the year. You have a chance to meet our Lancers off the court, hear from graduating players Jessica Clemencon and Miah-Marie Langlois as well as head coach Chantal Vallee. You will also have a chance to bid on some fabulous prizes in our silent auction.
Tickets:
$125 (includes $100 tax receipt and recognition at the event)
$45 (includes $20 tax receipt)
For ticket information:
Mary-Ann Rennie
Special Events Manager
401 Sunset Avenue
Windsor, ON NB 3P4
[email protected]
519-973-7059
Please join us and show your support to help us win 4 on our Floor.
Please RSVP by Monday November 25th.
Location
University of Windsor, Ambassador Auditorium, CAW Student Centre
401 Sunset
Windsor, Ontario