Date
Saturday April 11th, 2015
Time
See Description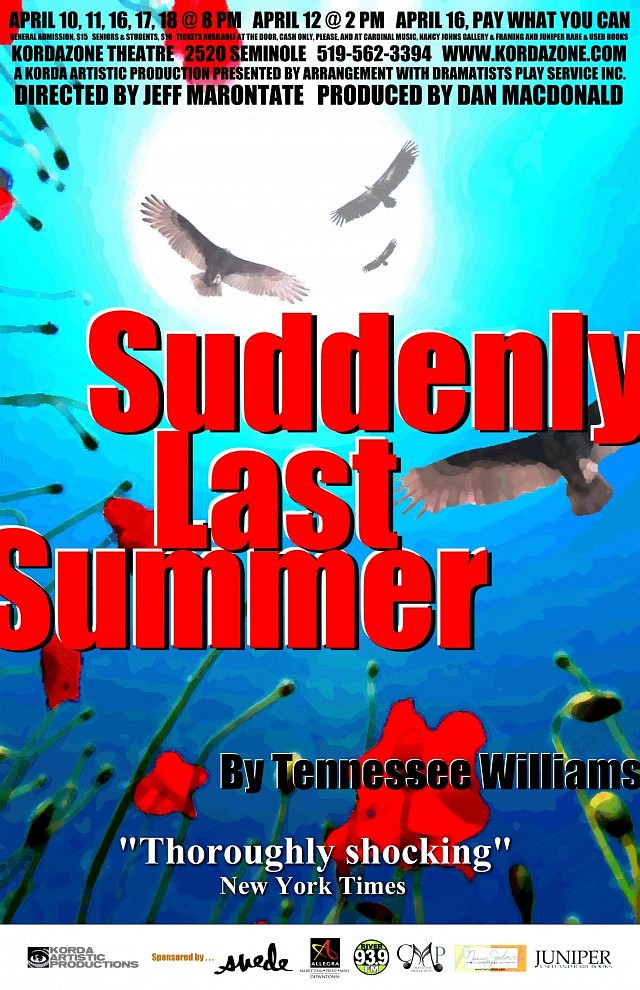 Korda Artistic Productions presents
Tennessee Williams' Southern Gothic
SUDDENLY, LAST SUMMER
SHOW DATES
April 10, 11, 12, 16, 17 & 18, 2015
Thursday/Friday/Saturday @ 8PM
Sunday Matinee @ 2PM
Pay-What-You-Can April 16
ALL PERFORMANCES AT
The KordaZone Theatre
2520 Seminole St. Windsor, ON.
Facebook Event Link: https://www.facebook.com/events/624599937684335.
Written by Tennessee Williams.
Directed by Jeff Marontate.
Produced by Dan MacDonald.
SYNOPSIS: A young woman is institutionalized and threatened with lobotomy for revealing the horrifying truths of her Cousin Sebastian's death. His wealthy, twisted mother resorts to bribery and extortion in order to stop the girl's "obscene babbling". "… (a) feeling of dank corruption (runs) through the play… thoroughly shocking…" – The New York Times.
TICKETS: $15 (General Admission); $10 (Students/Seniors).
THE CAST:
Phyllis Lewis as Mrs. Venable
Carl Haffner as Dr. Cukrowicz
Kaitlyn Karns as Catherine Holly
Michele Legere as Mrs. Holly
Daniel Zeiter as George Holly
Stephanie Cragg as Sister Felicity
and Sarah Jane FitzGerald as Miss Foxhill
THE CREW:
Jeff Marontate; Director and Set Designer
Dan MacDonald; Producer
Joey Wright; Stage Manager
J.P. Watters; Costume Designer
Michael Haggert; Lighting & Sound Designer
Dan Nolin; Graphic Artist
and Christopher Lawrence-Menard; Website & Program Designer
SHOW SPONSORS
Suede Productions
Allegra Print + Mail Downtown Windsor
The River 93.9 FM
Cardinal Music
Nancy Johns Gallery & Framing
Juniper Used & Rare Books
Location
The KordaZone Theatre
2520 Seminole Street
Windsor, Ontario