Date
Saturday April 8th, 2017
Time
6:00pm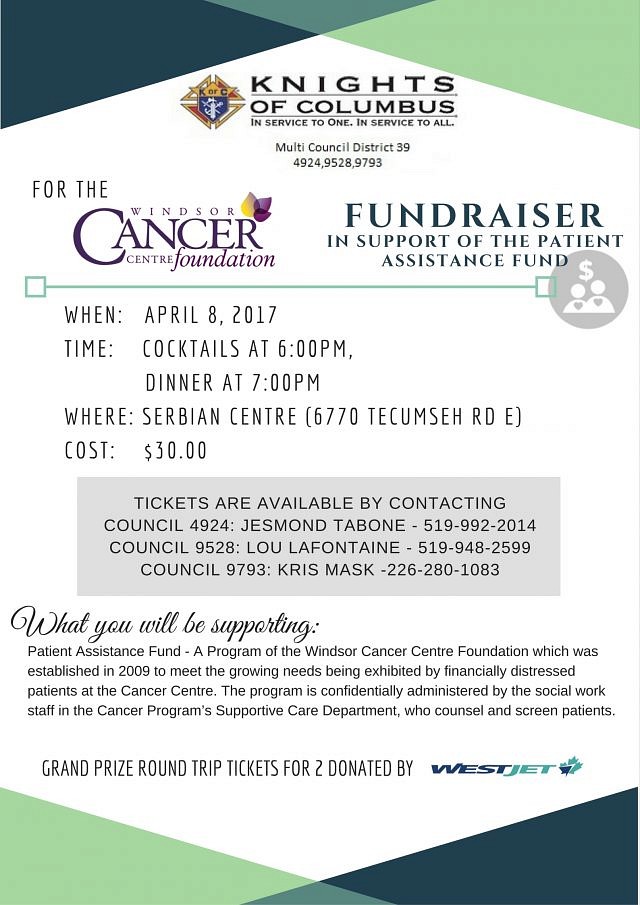 When: April 8, 2017
Time: Cocktails at 6:00pm, Dinner at 7:00pm
Where: Serbian Centre – 6770 Tecumseh Rd. E.,
Cost: $30.00
Tickets are available by contacting
Council 4924: Jesmond Tabone – 519-992-2014
Council 9528: Lou Lafontaine – 519-948-2599
Council 9793: Kris Mask -226-280-1083
What will be supporting:
Patient Assistance Fund – A Program of the Windsor Cancer Centre Foundation
The Patient Assistance Fund was established in 2009 to meet the growing needs being exhibited by financially distressed patients at the Cancer Centre. The program is confidentially administered by the social work staff in the Cancer Program's Supportive Care Department, who counsel and screen patients.
GRAND PRIZE ROUND TRIP TICKETS FOR 2 DONATED BY WEST JET!
Location
Serbian Centre
6770 Tecumseh Rd E
Windsor, Ontario