Date
Friday November 7th, 2014
Time
7:00pm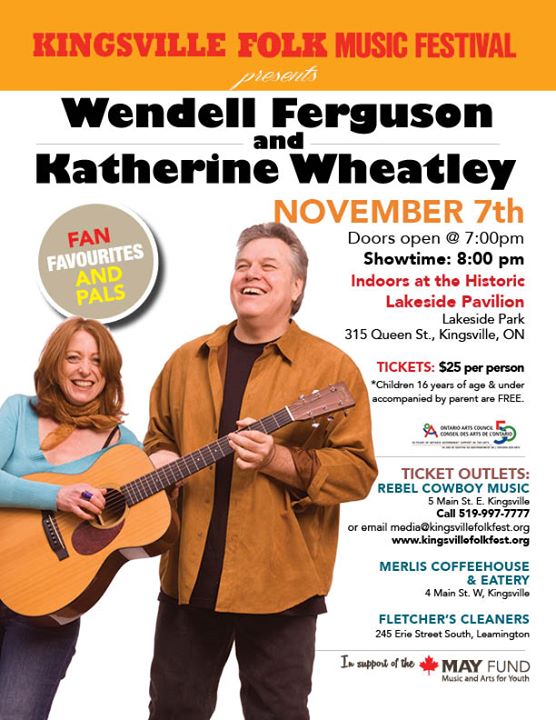 WHAT: Kingsville Folk Fest Presents- Wendell & Wheat: 6 Time CCMA Guitar Player of the Year -Wendell Ferguson & True Canadian Original – Katherine Wheatley
WHEN: Friday, November 7 ~ Doors 7:00pm Show 8pm
WHO: Six time CCMA Guitar Player of the Year -Wendell Ferguson & True Canadian Original Katherine Wheatley
WHERE: INDOORS Lakeside Pavilion located at Lakeside Park, 315 Queen St., Kingsville, ON
TICKETS: $25 per person
*FREE – 16 years of age & under, 12 and under must be accompanied by adult*
TICKET OUTLETS:
Rebel Cowboy Music/Kingsville Folk Music Festival Headquarters
5 Main St. E. Kingsville
Merlis'Coffeehouse & Eatery 4 Main St. W., Kingsville
Fletcher's Cleaners 245 Erie St. S. Leamington
OR Call 519-997-7777 or email [email protected]
UPCOMING SHOWS:
Early Bird Tickets November 1 for Kingsville Folk Musica Fest
2nd Annual Kingsville Folk Music Festival August 7-9, 2015
WEBSITE: www.kingsvillefolkfest.org
Wendell & Wheat: http://www.katherinewheatley.com/2007/07/wendell-and-wheat-weve-taken-two-great.html
___________________________
The Kingsville Folk Music Festival is proud to present Katherine Wheatley and Wendell Ferguson. The concert series is held indoors at Lakeside Park Pavilion, 315 Queen St., Kingsville on Friday, November 7 beginning at 8pm.
Wendell Ferguson is the six-time Canadian Country Musician's Association Guitar Player of the Year. According to the Ottawa Citizen, Katherine Wheatley is "A performer to keep you on the edge of your seat." They are best of musical pals. Her heartfelt lyrics and stunning voice and his honest yet irreverent humor make their show both moving and hilarious. One presenter said "An absolutely transcendent concert." Another said "She didn't leave a dry eye in the house. He didn't leave a dry seat."
Six time CCMA Guitar Player of the Year, Wendell Ferguson has traveled the globe and accompanied a veritable who's who in both the country field – (George Fox, Duane Steele, Tommy Hunter, Shania Twain, The Dixie Chicks) and the folk arena – (Gordon Lightfoot, Quartette, Bob Snider, Cindy Church). He is one of the best loved and most respected guitar players in Canada. Wendell performs his own, very funny songs at Folk Festivals and concert series. "The man writes sharp, witty and head-spinningly brilliant tunes. He's a cross between Roger Miller and Ray Flack. He has more in common with Mark Twain than Shania." (Twangzine). "The Victor Borge of the guitar." According to Country Music News "Wendell Ferguson is recognized by his peers as one of the top pickers in the country and known best as having one of the quickest wits in the game. A talented and funny guy to say the least."
Arresting vocals, fine guitar playing and a 'down to earth' feel that some attribute to her years working as a geologist, mark Katherine Wheatley's work. As well as touring extensively, she has written music for film and television documentaries and has been a musical guest on many shows, including CTV's Canada AM and CBC Radio's Vinyl Cafe. Hubert O'Hearn of the The Chronicle Journal in Thunder Bay wrote "Katherine Wheatley is able to take minor observations in life and find their soul. On stage…she exudes sheer kindness and love. Blessedly, refreshingly, Katherine Wheatley is a truly Canadian original." According to Warren Footz of SEE Magazine "…man, can this serene red head ever play guitar."
Doors open at 7:00pm, refreshments and goodies are available for purchase. Tickets are $25 per person. Children 16 years of age or younger accompanied by a parent are FREE.
Concert goers are urged to purchase tickets in advance as the popular series is generally sold out. Tickets are available at Rebel Cowboy Music 5 Main St. E., and Merlis' 4 Main St. W. in Kingsville, Fletcher's Cleaners, 245 Erie St. S., Leamington. Call Rebel Cowboy Music at 519-997-7777 or email [email protected]
The Kingsville Folk Music Festival is a project of the Sun Parlour Folk Music Society, a non-profit society dedicated to raising money for specific projects such as the MAY FUNd, through the annual folk festival and an ongoing concert series. The MAY Fund stands for Music and Arts for Youth and will provide financial assistance to Essex County youth to access the arts; which could consist of music, arts, dance, theatre lessons, workshops and mentoring.
The Sun Parlour Folk Music Society has been awarded an Ontario Arts Presenters Grant made possible by the Ontario Arts Council for their 2014 concert series, enabling the society to continue to showcase excellence in Canadian and International performers, present its concert series in a larger venue and allow families access to premiere events at a reasonable cost.
Location
Kingsville Folk Music Festival
Headquarters at 5 Main Street East
Kingsville, Ontario