Date
Saturday April 11th, 2015
Time
6:00pm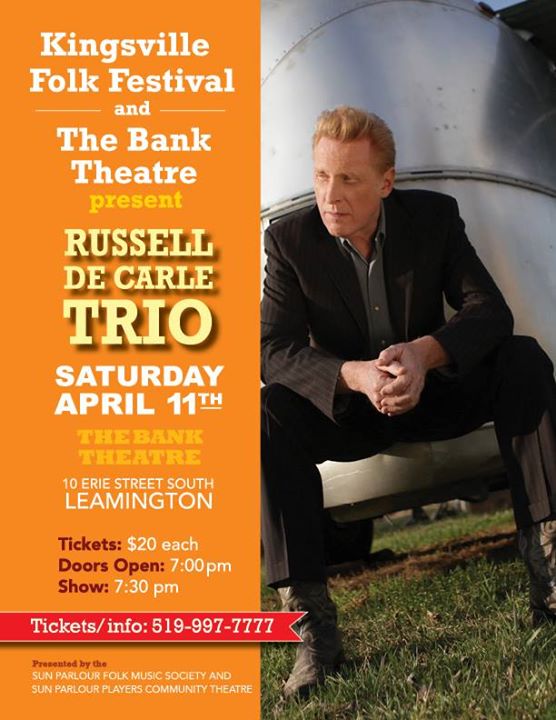 WHAT: Kingsville Folk Festival & The Bank Theatre Present Russell deCarle Trio
WHEN: Saturday, April 11
Doors: 7pm Show: 7:30pm
WHERE: The Bank Theatre and Meeting Place, 10 Erie Street South, Leamington, Ontario
TICKETS/INFO: $20 –
Rebel Cowboy Music, 5 Main St. E Kingsville 519-997-7777
Counter Effects, 2 Iroquois Rd. Leamington 519-326-4014
PRESENTED BY: Sun Parlour Folk Music Society & Sun Parlour Players Community Theatre
Websites:
www.russelldecarle.com
www.kingsvillefolkfest.org
www.banktheatre.com
www.sunparlourtheatre.ca
__________________________
Kingsville Folk Festival & The Bank Theatre Present Russell deCarle Trio
MARCH 16, 2015 –LEAMINGTON, ONTARIO –In a first time joint fundraising effort Kingsville Folk Music Festival & The Bank Theatre will present 6 time Juno winner Russell deCarle with his Trio at the beautifully renovated Bank Theatre and Meeting Place, Saturday, April 11.
Russell deCarle is a founding member, lead vocalist, bassist, and contributing songwriter to the multi-gold and platinum, Juno award winning, 11 time Canadian Country Music Awards country roots group Prairie Oyster. Fan favourites, Russell deCarle Trio includes accordion master Denis Keldie and guitarist vocalist Steve Briggs. The trio is returning to the area following their appearance at the inaugural Kingsville Folk Music Festival in August 2014.
As a solo artist Russell has appeared on CBC TV's Songwriters Circle, opened for Merle Haggard on his cross-Canada tour, traveled coast-to-coast with Bluebird North Songwriters' Tour, and was a featured guest on Stuart McLean's Vinyl Café Christmas Tour, 2008. Russell has also appeared as a guest vocalist on numerous occasions (Bebop Cowboys, Rita Chiarelli, Terra Hazelton) and has won two SOCAN Song of the Year awards.
2010 sees the release of Russell's long-awaited and much-anticipated solo recording "Under the Big Big Sky". deCarle penned nine of the eleven songs and is featured on vocals and rhythm guitar.
The Bank Theatre is located at 10 Erie Street South in Leamington. Doors open at 7:00 pm, show begins at 7:30 pm. Limited seating, patrons are urged to purchase tickets in advance. Tickets are just $20 per person, and available at Rebel Cowboy Music, 5 Main St. E Kingsville 519-997-7777 or Counter Effects, 2 Iroquois Rd. Leamington 519-326-4014.
The concert is a fund raising project of both the non-profit Sun Parlour Folk Music Society and the registered charity Sun Parlour Players Community Theatre. The Sun Parlour Folk Music Society exists to provide diverse high quality folk music through concerts and the annual Kingsville Folk Music Festival. SPFMS allocates funds to the MAY FUNd (Music and Arts for Youth) which provides financial assistance to regional youth to access the arts.
Sun Parlour Players Community Theatre is a vibrant organization where everyone can experience the performing arts. Sun Parlour Players Community Theatre is committed to bringing to the community a performing arts centre, The Bank Theatre, with the highest quality of planning, design, and functionality, to accommodate all age groups and all appropriate aspects of liberal arts.
Websites:
www.russelldecarle.com
www.kingsvillefolkfest.org
www.banktheatre.com
www.sunparlourtheatre.ca
Location
The Bank Theatre and Meeting Place
10 Erie Street South
Leamington, Ontario