Date
Wednesday November 19th, 2014
Time
12:00pm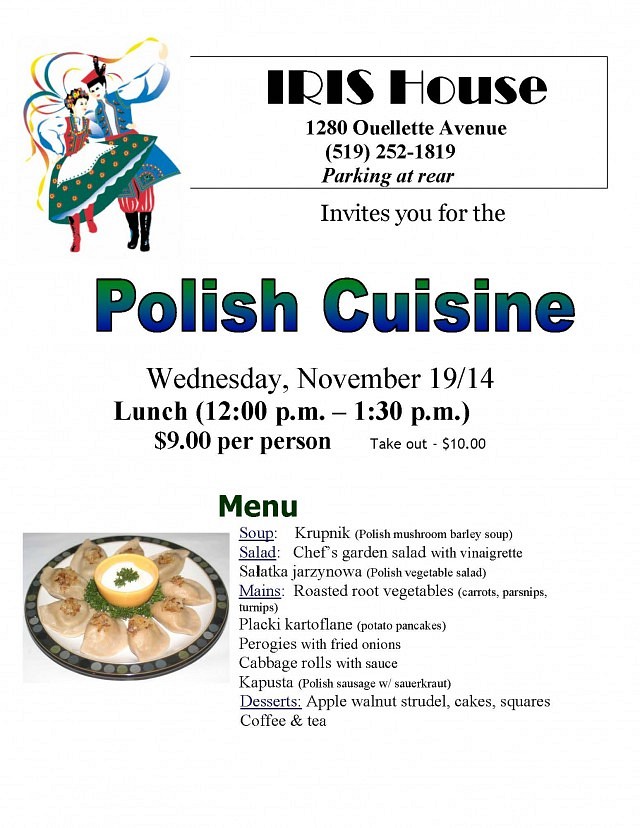 IRIS monthly fundraising luncheon "Polish Cuisine" Wed., Nov. 19/14 from 12:00 p.m. to 1:30 p.m.
Menu:
Soup: Krupnik (Polish mushroom barley soup)
Salad: Chef's garden salad with vinaigrette
Sałatka jarzynowa (Polish vegetable salad)
Mains: Roasted root vegetables (carrots, parsnips, turnips)
Placki kartoflane (potato pancakes)
Perogies with fried onions
Cabbage rolls with sauce
Kapusta (Polish sausage w/ sauerkraut)
Desserts: Apple walnut strudel, cakes, squares
Coffee & tea
***
Tickets: $9.00, Take out: $10.00
Address: IRIS House, 1280 Ouellette Ave., Windsor ON N8X 1J5
Parking in IRIS House parking lot at Dufferin Pl. (back of IRIS building).
Location
IRIS House
1280 Ouellette Avenue
Windsor, Ontario