Date
Thursday November 5th, 2015
Time
6:30pm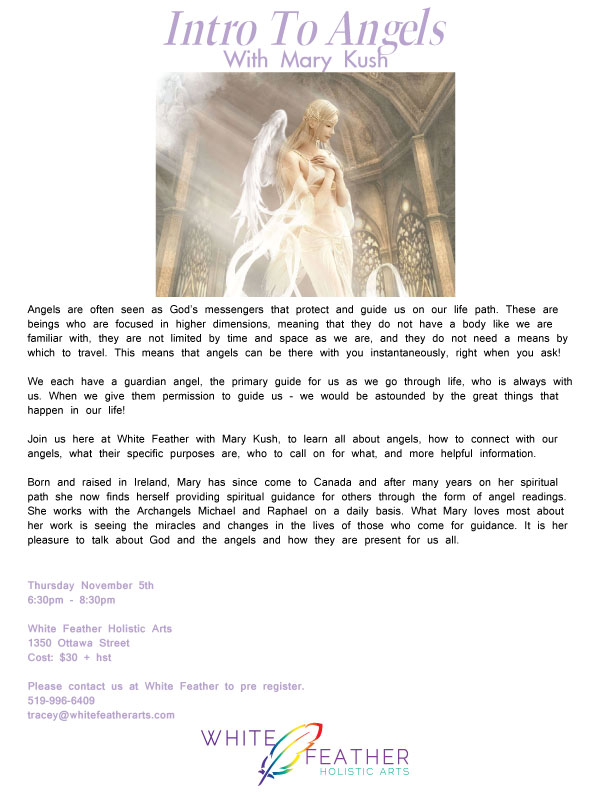 Facilitated by Mary Kush.
Angels are often seen as God's messengers that protect and guide us on our life path. These are beings who are focused in higher dimensions, meaning that they do not have a body like we are familiar with, they are not limited by time and space as we are, and they do not need a means by which to travel. This means that angels can be there with you instantaneously, right when you ask!
We each have a guardian angel, the primary guide for us as we go through life, who is always with us. When we give them permission to guide us – we would be astounded by the great things that happen in our life!
Join us here at White Feather with Mary Kush, to learn all about angels, how to connect with our angels, what their specific purposes are, who to call on for what, and more helpful information.
Born and raised in Ireland, Mary has since come to Canada and after many years on her spiritual path she now finds herself providing spiritual guidance for others through the form of angel readings. She works with the Archangels Michael and Raphael on a daily basis. What Mary loves most about her work is seeing the miracles and changes in the lives of those who come for guidance. It is her pleasure to talk about God and the angels and how they are present for us all.
6:30 pm – 8:30 pm
White Feather
1350 Ottawa St.
$30 + hst
Please contact us by phone or email to pre-register for the class.
519-996-6409
[email protected]
Location
White Feather Holistic Arts
1350 Ottawa Street
Windsor, Ontario