Date
Tuesday September 30th, 2014
Time
6:00pm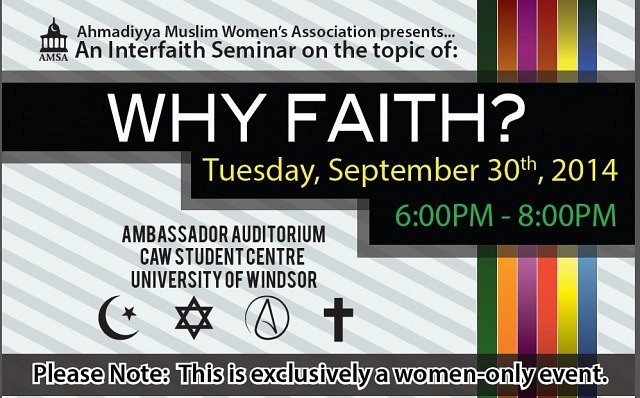 On behalf of the Ahmadiyya Muslim Women's Association of Windsor, we cordially invite you to an Interfaith Seminar on Tuesday, September 30th, 2014 from 6:00-8:00PM at the Ambassador Auditorium in the CAW Student Centre at the University of Windsor. Admission is free, and refreshments will be served.
The topic of this seminar is "Why Faith?" Speakers from Jewish, Atheist, Christian, and Muslim backgrounds will share their personal perspectives on this topic, and there will be ample opportunity for dialogue and discussion amongst participants before, during, and after the program.
We encourage you to invite your network of women to this evening of dialogue, sharing, and learning. Please note that this is a women-only event.
Location
University of Windsor
401 Sunset Avenue
Windsor, Ontario