Date
Monday March 7th, 2016
Time
7:00am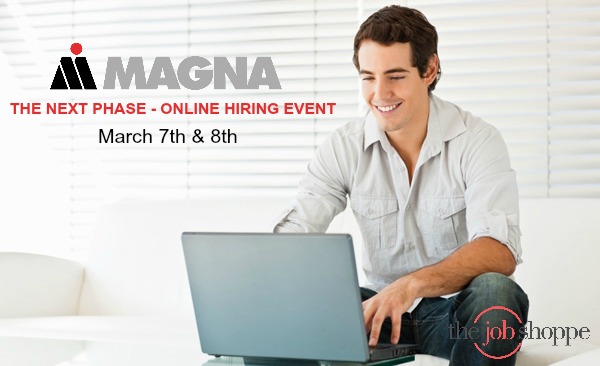 THE JOB SHOPPE HAS SUCCESSFULLY PLACED OVER 200 CANDIDATES AT INTEGRAM, AND WE ARE NOW MOVING INTO OUR NEXT PHASE OF HIRING
INTEGRAM SEATING – THE NEXT PHASE ONLINE HIRING EVENT
March 7th and 8th, 2016
Hiring 70+ Seating Assembly Production Associates
Direct Hire | Full Time | $17.33/hr | Start Date: Immediate
Join us March 7th and 8th for an online hiring event. Apply from the comfort of your own home. Simply email your resume to [email protected] with the subject: Magna. Resumes can also be dropped off in person to 1614 Lesperance Rd. Tecumseh, ON. N8N 1Y3
Strict Qualification Requirements:
– Currently working in a manufacturing role with at least 1 year of experience
– Availability to work days, afternoons and midnights.
– Must pass job specific testing.
– Must have a high school diploma or equivalent.
– Two verifiable work related references.
– Ability to work mandatory overtime and weekends.
– Must have own transportation, as public transportation is not available.
PLEASE DIRECT ALL QUESTIONS TO THE JOB SHOPPE: 519-979-4400
INTEGRAM WILL NOT BE ACCEPTING RESUMES OR TAKING CALLS
Location
The Job Shoppe - Online Event
1614 Lesperance Road
Tecumseh, Ontario