Date
Sunday October 30th, 2016
Time
11:00am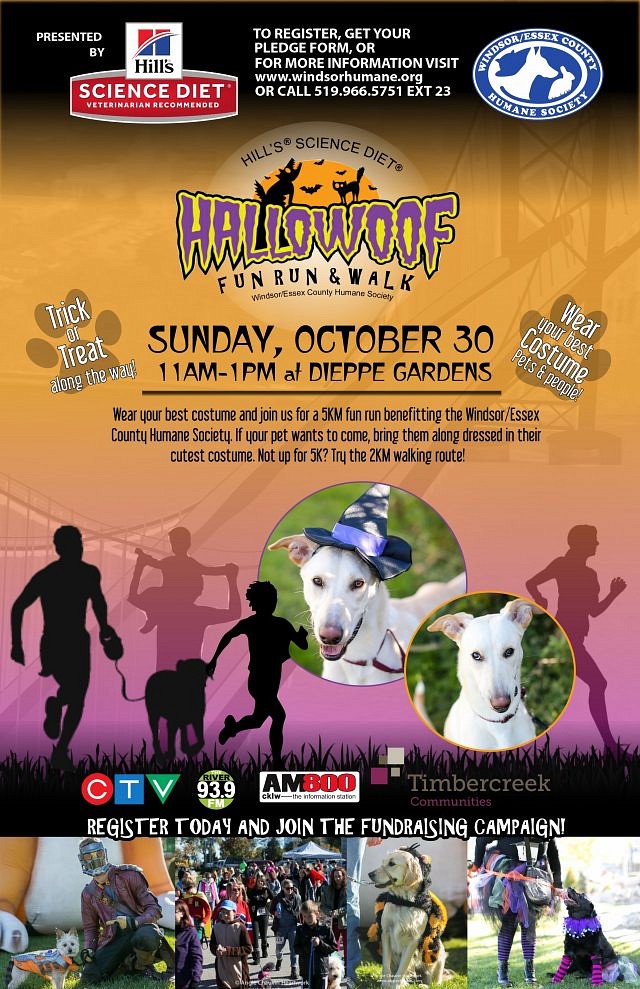 Event opens at 10AM for registration
Run begins at 11:30AM
YOU MUST BE REGISTERED TO PARTICIPATE! Participants may register on the day of the event.
Join the Halloween excitement and show off your and your pet's costume at this year's Hallowoof Fun Run & Walk in support of the Windsor/Essex County Humane Society. Raise money to support a great cause by coming out to run the 5km, or choose the 2km walking route instead. Furry friends are welcome, but if your pet would prefer to keep the couch warm, you're welcome to come without them! Non pet owners are more than welcome to join the fun!
All registered participants will receive a small prize at the event.
Registration fee is $20.
Create a fundraising page by joining as an individual or joining as a team.
You can register the day of the event with a paper pledge form for $20. No Early Bird discount applies to paper pledge forms.
FUND-RAISE TO WIN! PRIZES FOR REACHING FUNDRAISING GOALS:
$100 Raised: Receive a free item from the Refreshments stand (coffee, hot chocolate, or baked good).
$250 Raised: Receive a free Spay/Neuter for a cat at the WECHS Vet Clinic ($50 value) and get entered to win $25 VISA gift card.
$500 Raised: $20 gift card to For Your Fur Kids and a dog or cat gift!
$750 Raised: Running Factory Prize Pack
Top Fundraiser Overall: A large gift basket stuffed with goodies for your furry friend!
Join us for a day filled with fun activities for the whole family, including:
– Free face painting
– Great music
– Shopping at vendor booths
– Tricks or treats at every KM mark!
Sign up today with your team or as an individual! Once registered, you can login to your account to customize your personal & team donation pages, send emails, manage offline pledges, and view the status of your personal & team fundraising efforts. Would you like to sponsor a friend or family member instead? Click "Sponsor a Participant" above to find the person and/or team you would like to support.
Prizes are limited. Limit, one prize per category per participant. Team members eligible for prizes based on their individual pledge collections, not team totals.
Location
Dieppe Gardens
Riverside Drive West & Ouellette Ave
Windsor, Ontario