Date
Tuesday June 9th, 2015
Time
8:00pm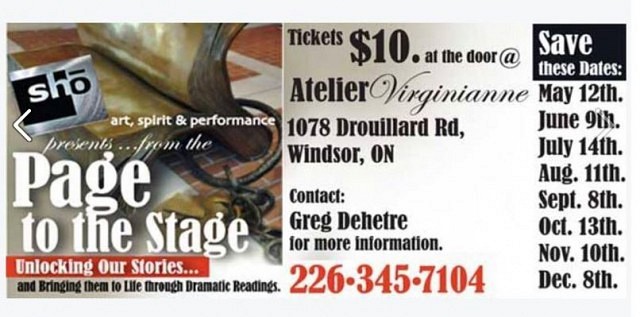 An evening of stories told in a dramatic fashion.
Writers can submit stories to be juried, and then read dramatically on stage by a performer.
From the page to the stage will be held at Atelier Virginianne on the second Tuesday of every month at 8:00 pm. Tickets are available at the door for $10. There will be a cash bar and snacks available.
Please contact Greg Dehetre at [email protected] to submit stories, if interested in being a performer, or for more information.
June 9 at 8:00pm – 10:00pm
July 14 at 8:00pm – 10:00pm
August 11th at 8:00pm – 10:00pm
September 8th at 8:00pm – 10:00pm
October 13th at 8:00pm – 10:00pm
November 10th at 8:00pm – 10:00pm
December 8th at 8:00pm – 10:00pm
Location
Atelier Virginianne
1078 Drouillard Road
Windsor, Ontario