Date
Saturday November 21st, 2015
Time
6:00pm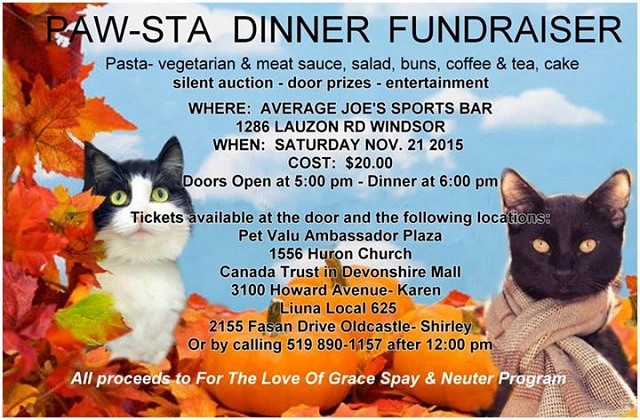 Please join For The Love of Grace spay neuter program on Saturday, November 21 for a FUN-FILLED evening of great food, decadent baked goods, music, silent auction, door prizes and much more!! We are a TNR (trap neuter return) volunteer group which formed in 2010 actively working in the Windsor community, reducing the feral and stray cat population through education, and spaying and neutering. We've helped countless injured and abandoned feral and stray cats who receive life-saving medical treatment, and spay and neuter surgery all thanks to YOUR support!
Festivities get underway at Average Joe's Sports Bar (1236 Lauzon Road) with dinner at 6pm for only $20 per person with all proceeds continuing to fund the important work we provide in our community. We are also going to take this opportunity to say thank you to our supporters, feral cat caregivers, and volunteers during this special evening. A great cause with great people who, together, accomplish great things for our feral cats.
Tickets are available at Pet Valu (Huron Church & Tecumseh Road W.), Canada Trust Devonshire Mall (Karen), Liuna Local 625 (Shirley, 2155 Fasan Drive, Oldcastle), by calling 519-890-1157 after 12pm, or at the door. Please join us!
Location
Average Joe's Sports Bar
1286 Lauzon Road
Windsor, Ontario