Date
Saturday April 22nd, 2017
Time
4:00pm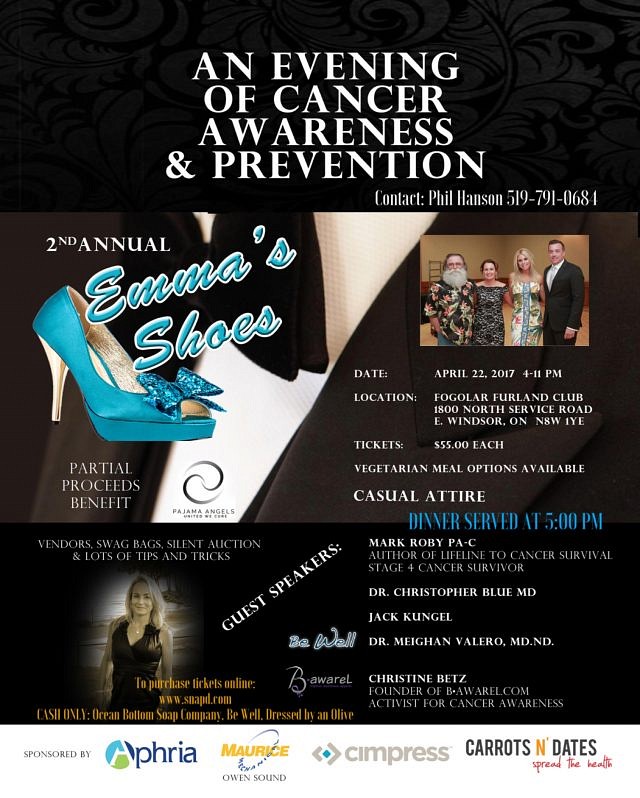 2nd Annual: Emma's Shoes for Cancer Awareness & Prevention
Sponsored by: Aphria | Maurice Mechanical | Cimpress | Carrots n' Dates
Hosted by:
Nicole Hanson-DeRoy | 519-999-3237 | [email protected]
The Details:
April 22, 2017 | 4p-11p | Dinner at 5pm
Special Diet Options available
5 Guest Speakers-Silent Auction- Vendors-Swag bags, Cash Bar and more!
* Casual Attire *
Location: Fogolar Furlan Club | 1800 N Service Rd, Windsor, ON N8W 1Y3
The Tickets:
$55.00 per person
available on-line through snapd Windsor at www.windsor.snapd.com
Cash Only at the following businesses with thanks:
Ocean Bottom Soap Company| 152 Lesperance Rd, Windsor, ON N8N 1W1 | 226.676-0228
Dressed by an Olive 366 Manning Road, Tecumseh, ON N8N 4W5 | 519.735.1772
Carrots n' Dates | 2090 Wyandotte Street East, Windsor, ON N8Y 5B2 | 519.962-5115
Be Well Windsor | 3200 Electricity Dr, Windsor, ON N8W 5J1 | 519.972.9355
Titan Tool & Die Limited | 2801 Howard Avenue Windsor, Ontario N8X3Y1 | 519-966-1234
The Speakers:
•Mark Roby; Cancer Strategist •Dr. Chrsitopher Blue •Jack Kungel
•Dr Meighan Valero, Naturopathic Doctor •Christine Betz
• Silent Auction (donations still being taken) • Swag Bag (looking for sponsors) • Vendor Spaces ($75) still available
Vendor List & Growing:
*Sheri Brunelle (YOUNIQUE REP)
*Cheryl Roorda (NORWEX)
*Mark Roby (Speaker) (LIFELINES TO CANCER SURVIVAL BOOK)
*Christine Betz (BAWAREL CLOTHING)
*Lori Poole (TUPPERWARE)
*Gabby's Gifts from the heart for the Cause (JEWELERY & BAKE SALE)
*Jen Mayhew RDH, Embrace Dental Hygiene
*Sarah Barrette THE CHEESE BAR
* Pajama Angels United We Cure
A Portion of Proceeds will be donated to Pajama Angels Charity.
Location
Fogolar Furlan Club
1800 North Service Road
Windsor, Ontario