Date
Saturday June 20th, 2015
Time
9:00am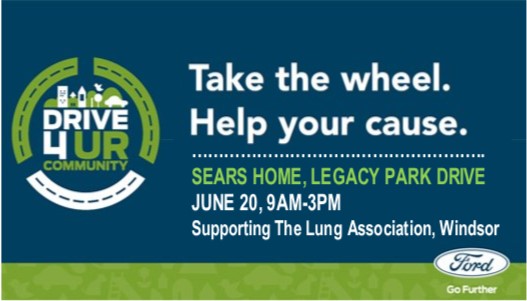 The Drive 4UR Community program is an effortless way for you to support The Lung Association and, we hope you will because, let's face it, WHEN YOU CAN'T BREATHE, NOTHING ELSE MATTERS!
On Saturday, June 20, we will partner with Performance Ford to conduct test drives. For every valid drive completed at the event, Ford of Canada will donate $20 to The Lung Association – up to a maximum of $6,000!
You can pre-register at drive4ur.com/en/lungassociationwindsoressex or on June 20 at Sears Home (across from Costco) and drive away in a new Ford (but, don't forget that you have to come back!). We'll also be selling hotdogs/chips/pop so bring your appetite along with you!
If you have any questions or would like to volunteer to help out, please call The Lung Association at 519-256-3433.
Location
Sears Home
3051 Legacy Park Drive
Windsor, Ontario