Date
Saturday February 28th, 2015
Time
8:00pm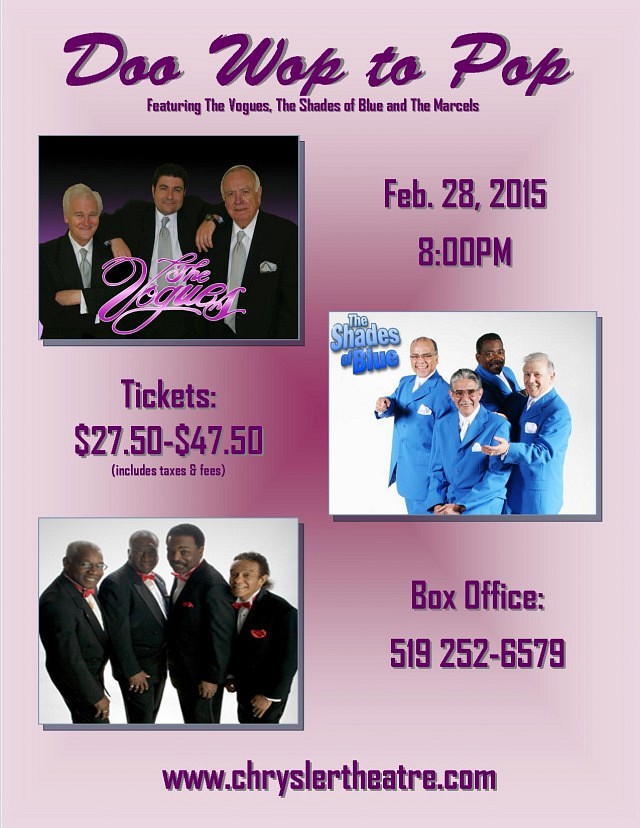 Doo Wop To Pop features three of the top vocal groups from the 60's – The Vogues, The Marcels and The Shades of Blue.
The Vogues' fresh, original blend of vocal harmony left an indelible mark in the world of popular music. Inducted into the Vocal Group Hall of Fame in 2001, The Vogues remain one of the top vocal groups on the oldies scene today. Even though their first hit "You're the One" was released over 40 years ago, the Vogues continue to attract sellout audiences at concerts and club appearances around the country.
The Marcels are as advertised, the guys who put the "Bomp" in the "Bomp-A-Bomp" back in 1961 when their first recording, "Blue Moon" sold over two and a half million copies and has been used in at least four major motion pictures and various TV shows, such as Sha Na Na, Cheers, Moonlighting, Laverne & Shirley, Happy Days, etc.
The Shades Of Blue, skyrocketed to the top of charts with their "Blue-Eyed Soul" smash, "Oh How Happy". Originating from Livonia, Michigan, The Shades of Blue were: Nick Marinelli (lead vocals), Ernie Dernai (first tenor), Linda Allen (second tenor), and Bob Kerr (baritone). The overnight success of "Oh How Happy" caught everyone by surprise, as Nick Marinelli remembers: "We literally hit the road running.
Tickets:
Main Floor Rows A-J $47.50
Box Seats $47.40
Main Floor Rows K-Z $37.50
Balcony Rows AA-DD $32.50
Balcony Rows EE-KK $27.50
Location
Chrysler Theater
201 Riverside Drive West
Windsor, Ontario