Date
Monday September 1st, 2014
Time
10:00pm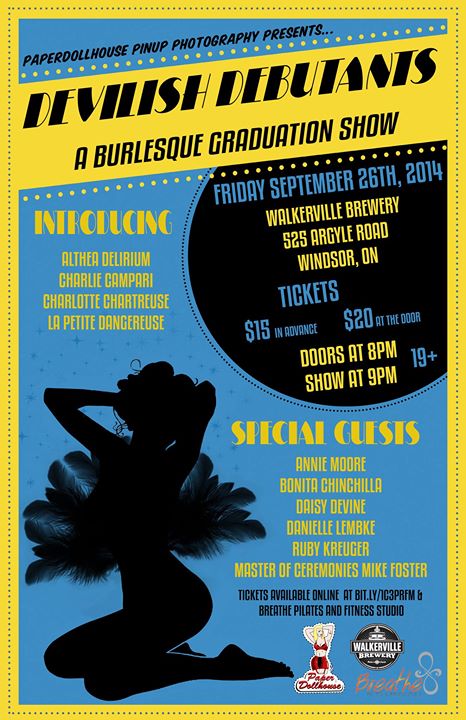 The tassels will be twirling at this graduation, but they won't be attached to any mortarboards! Come join us at the Walkerville Brewery for a graduation unlike any other as the Devilish Debutantes from the Breathe Pilates and Fitness Studio Burlesque Guidance Course show off their new moves, along with local hits Daisy Devine and Singer Danielle Lembke, as well as Cambride's own Ruby Krueger, Bonita Chinchilla , Annie Moore ; all hosted by our favorite zoot suit riot, Mike Foster.
Help us welcome Windsor's newest burlesque stars to the stage with your loudest cat calls as Althea Delirium, Charlotte Chartreuse, La Petite Dangereuse, Charlie Campari, and stage kitten/pinup model Emerald May make their anticipated debut.
Tickets are available here, and at the door for an increased price, so get yours early!
Vendors at this event are
Sew Crazy Tracy
Bonita Chinchilla has not just stage presence but stage goodies
Oddball Art Co. by Lizzy Love
Chained Up
Culture Shock Jewelry
Hanky Panky
Location
Walkerville Brewery
525 Argyle Road
Windsor, Ontario