Date
Tuesday March 15th, 2016
Time
6:00pm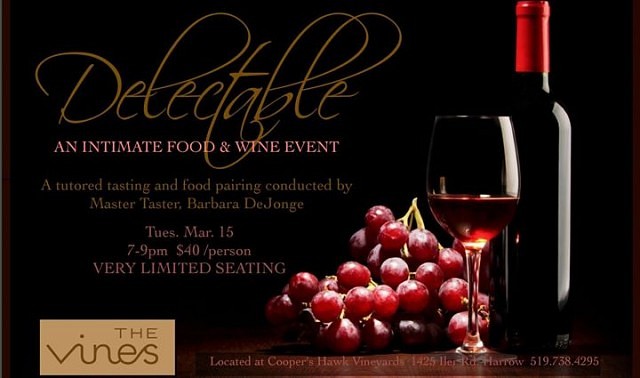 An intimate evening at Coopers Hawk Vineyards. Join us for a tutored tasting and food pairing with Barb our resident Master Taster with food experetly prepared by our talented Chef Michael.
$40.00 per person.
This event will be capped at 18 guests. Call CHV at (519) 738 4295 or click the link above to purchase your ticket.
You will experience 4 example's of Spice, Compliment, Contrast and Synergy
The Menu for this night will be:
Creamy Garlic Shrimp En Croute paired with our Oaked Kissed Barrell Fermented Chardonnay
Smoked Turkey and black Bean soup paired with our Rippened Cabernet Franc
Rare, Rosemary and garlic Beef TIps paired with our Cabernet Merlot Reserve
"Devil made me do it" Chocolate Brownie paired with our award winning Rosé.
Location
Cooper's Hawk Vineyards
1425 Iler Road
Harrow, Ontario