Date
Saturday February 15th, 2014
Time
9:30pm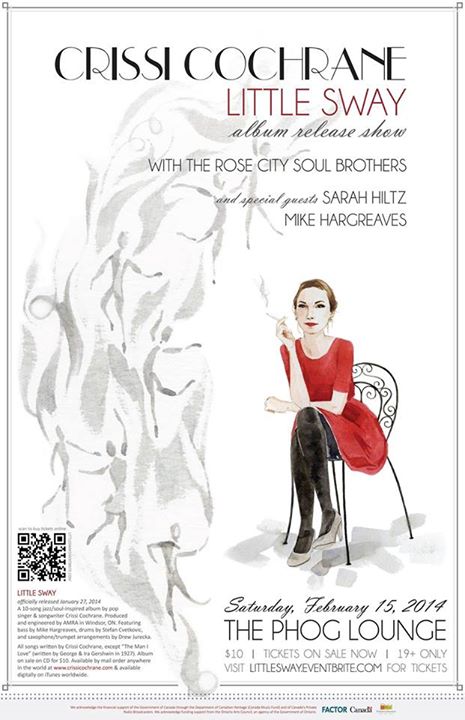 CRISSI COCHRANE celebrates the release of her new album "Little Sway" with a performance at THE PHOG LOUNGE (157 University Ave. W.) in Windsor, ON on Saturday, February 15th. Crissi will be joined by Mike Hargreaves on bass and Stefan Cvetkovic on drums.
Mike Hargreaves will perform from 10:00 – 10:30pm. Sarah Hiltz (http://sarahhiltz.com/) will play from 10:45 to 11:15pm, leading up to Crissi's performance from 11:30pm – 12:30am. Show is open to 19+ only.
$10
BUY TICKETS ONLINE HERE:
http://littlesway.eventbrite.com
**The Phog Lounge has a capacity of 60 people. Buying your ticket is the only way to guarantee your entry.**
– www.crissicochrane.com –
LITTLE SWAY (to be released January 27, 2014) is a 10-song album by Crissi Cochrane, recorded in Windsor, ON. Produced and engineered by AMRA. Bass by Mike Hargreaves. Drums by Stefan Cvetkovic. Saxophone & trumpet arrangements by Drew Jurecka. Electric guitar, keys, and programming by Adam Rideout-Arkell. All songs written by Crissi Cochrane except "The Man I Love" by George & Ira Gershwin (1927). Made with the support of the Ontario Arts Council, FACTOR, and the Windsor Endowment for the Arts.
The album will be available for sale digitally on iTunes worldwide & at http://crissicochrane.bandcamp.com. Copies can be ordered anywhere in the world by mail at http://www.crissicochrane.com. AT THE SHOW, CDs will be on sale for $10.
Hear the first single from the record – And Still We Move – on YouTube:
Location
Phog Lounge
157 University Avenue West
Windsor, Ontario