Date
Tuesday July 22nd, 2014
Time
11:00am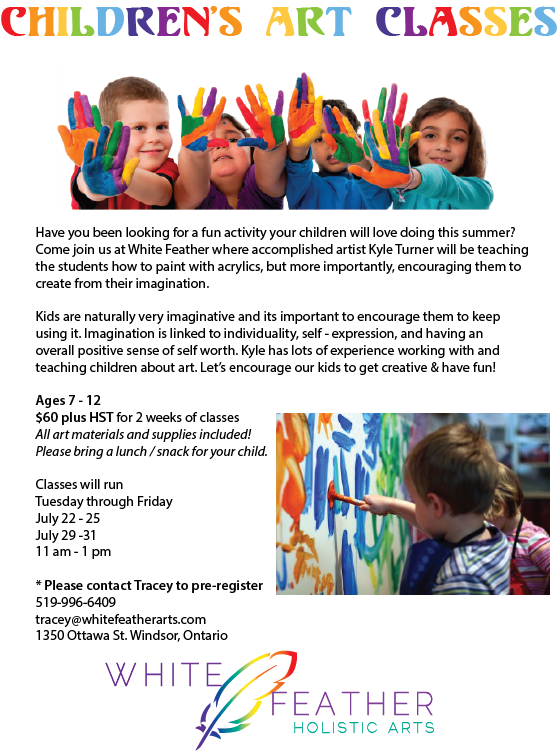 Children's Art Classes
With artist Kyle Turner
Acrylic painting with i m a g i n a t i o n ~
pre-registration required
Ages 7 – 12
$60 plus HST
All art materials and supplies included!
Please bring a lunch / snack for your child.
WHEN
This class will run for 2 weeks
Tuesday through Friday
July 22 – 25
July 29 – 31
11 am – 1 pm
WHERE
White Feather Holistic Arts
1350 Ottawa St. Windsor, Ontario
Have you been looking for a fun activity your children will love doing this summer? Come join us at White Feather where accomplished artist Kyle Turner will be teaching the students how to paint with acrylics, but more importantly, encouraging them to create from their imagination.
Kids are naturally very imaginative and its important to encourage them to keep using it. Imagination is linked to individuality, self – expression, and having an overall positive sense of self worth. Kyle has lots of experience working with and teaching children about art. Let's encourage our kids to get creative & have fun!
* please contact Tracey to register *
519-996-6409
[email protected]
Location
White Feather Holistic Arts
1350 Ottawa Street
Windsor, Ontario