Date
Thursday February 25th, 2016
Time
6:30pm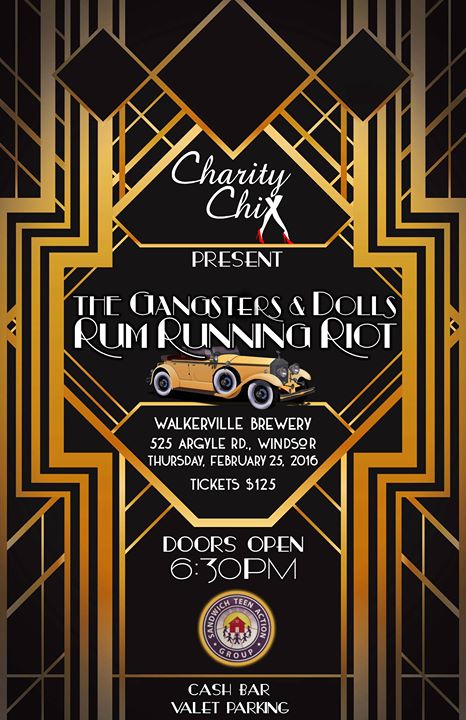 Dearest Facebook Friends,
The Charity Chix cordially invite you to join us in raising funds for the Sandwich Teen Action Group (S.T.A.G.) at our Gangsters & Dolls Rum Running Riot!
Happening on Thursday, February 25th at the Walkerville Brewery, this modern roaring 20's themed event is sure to be the bee's knees!
~Gourmet Appetizers
~Raffle Prizes
~Silent Auction
Tickets are $125 and can be purchased by contacting your favourite Charity Chix or calling our ticket hotline 519-253-0111
….
About S.T.A.G.: The Sandwich Teen Action Group is located in Old Sandwich Towne. S.T.A.G. is committed to providing programs which foster positive life experiences for youth in a safe and caring environment. Teens find support to cope with problems and help to make positive and responsible choices away from strife on the streets and at home.
Calling itself a "one language different cultures" group facility one of the primary benefits of S.T.A.G. is its provision of positive role models and relationship building opportunities with the assistance of volunteers and staff.
An event of this magnitude would not be possible without the support of our local merchants, sponsors and the community at large. Please contact your closest Charity Chix or call Charity Chix Headquarters at 519-253-0111 for tickets, prizing, and sponsorship opportunities!
Location
Walkerville Brewery
525 Argyle Road
Windsor, Ontario