Date
Saturday April 8th, 2017
Time
8:00pm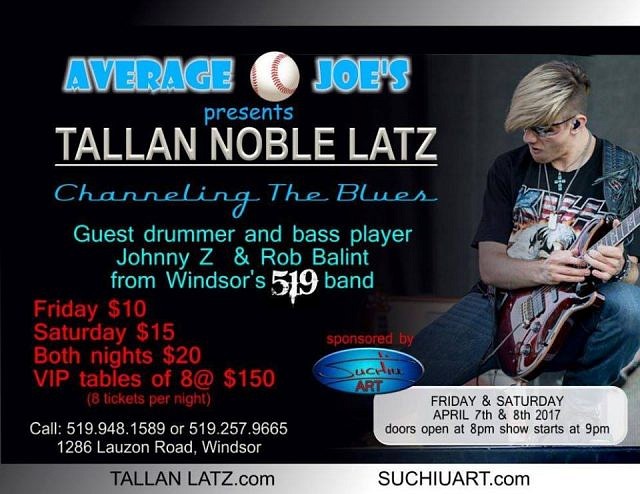 Live blues concert featuring 17 year old guitar phenom TALLAN NOBLE LATZ from Elkhorn Wisconson.
This young man will be making his Canadian debut at Average Joe's Sports Bar & Grill located at 1286 Lauzon Rd. Windsor Ontario with 2 shows, Friday April 7TH & Saturday April 8TH 2017.These will be 2 entirely different shows .
Friday will be a mix of blues greats & Saturday will be a special tribute to two of Tallan's idols, STEVIE RAY VAUGHN & JIMMI HENDRIX.
Special guest bassist ROB BALINT & drummer JOHNNY Z from WINDSOR'S OWN 519 BLUES BAND.
Tallan started playing at 5 yrs old and had his own band at 6.
At 9 he was on Americas Got Talent and has shared the stage with many of the great guitar players known today, from BB King to Joe Bonamasa and Kenny Wayne Shepard.
Don't miss out on this intimate concert.
PLEASE CALL OR E-MAIL ME FOR TICKET INFORMATION @ 519-257-9665 OR [email protected]
There will also be a special showing of music related art pieces by World Renouned Artist Ronald Suchiu That will include art counter signed by Sting, Dan Aykroyd, Eric Burdon and more.
Joe Konas from the UK Band The Gods along with Michael Hereford from British Beats 66 will be joining Tallan on stage to jam a couple of songs on the Friday night.
Joe played St. Albert Hall in 1969 with Jimmi Hendrix.
His band The Gods included Greg Lake from ELP fame and Ken Hensley from Uriah Heap fame.
Don.t miss out on this one.
Location
AVERAGE JOE'S SPORTS BAR
1286 LAUZON RD
Windsor, Ontario