Date
Saturday January 25th, 2014
Time
9:00pm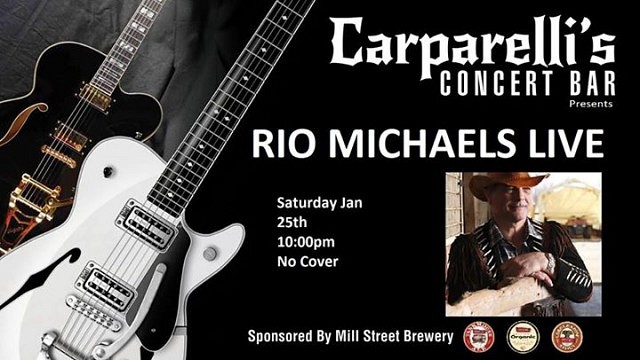 Carparelli's is proud to announce our very first Country Night with local country music star Rio Michaels!
A bit about:
Rio Michaels (known to his family and friends as Mike Riopelle) began a musical career at an early age with a family of country music players.
The family produced a successful CD entitled "Steppin Out".
Now Michael has recreated himself as "Rio Michaels" with a new CD release called "Back To You".
He continues to pursue his country music career with cover songs from Brooks and Dunn, Toby Keith, Gary Allen, Garth Brooks and many more.
Everytime Rio Michaels performs on stage, it's always a ton of fun for him and his audience
We at Carparelli's are proud to have Rio take the sound stage this Saturday night! So…get your boots on, grab them hats and head on down to us this Saturday! No Cover folks, great drink prices and as always a great time! For table reservations text 519-562-9911
Location
Carparelli Sound Lounge
26 Chatham Street East
Windsor, Ontario