Date
Thursday December 3rd, 2015
Time
8:00pm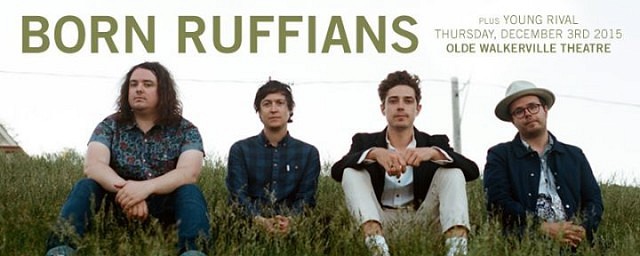 Born Ruffians return to Windsor with another Phog Lounge favourite, Young Rival (Hamilton). This time, we go to The Olde Walkerville Theatre for a spectacular light/sound experience with these two gems.
Seeing the Windsor show, for a Canadian, means no border crossing fee, and no rough exchange rate for your Canadian dollar.
"RUFF, the newest album from Born Ruffians, is an exploration into self and aesthetics. It's a collection of scrubbed raw anthems that are defiantly optimistic, imaginatively arranged, and performed with a sense of bloodlust. In contrast to previous records from this Canada-based quartet, RUFF is simultaneously a return to form and a departure from convention. It is at once a culmination and a disassembly of the band's history and dynamics.
RUFF took shape from a singular focus on the work itself, and exploration into the relation of candor, immediacy and art. "We had one overarching goal this time out: to make the album we wanted to make. We took nothing else into consideration," says bassist Mitch Derosier.
Over four albums, Born Ruffians have developed a signature aesthetic that encompasses tightly wound, trapezoidal songs frothing over with hooks and wryly cathartic lyrics. The group has garnered favourable comparisons to such quirky pop infiltrators as the Talking Heads, The Pixies and The Strokes. Onstage, the band is arousing and assaulting, coming off somewhere between a riot and a soul revue. Born Ruffians are Luke Lalonde (guitar/vocals), Mitch Derosier (bass), Andy Lloyd (guitar/keyboard) and Adam Hindle (drums)."
Location
Olde Walkerville Theatre
1564 Wyandotte Street East
Windsor, Ontario