Date
Tuesday May 9th, 2017
Time
7:00pm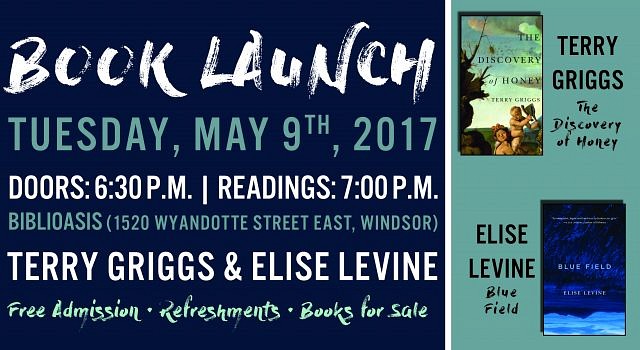 Praise for Terry Griggs:
"Like Robertson Davies on speed." -Globe & Mail
Praise for Elise Levine:
"Reading Elise Levine is akin to a wild ride down a dark road at night…bold and startling." -Globe & Mail
Biblioasis is proud to announce two new fantastic books from authors Terry Griggs (The Discovery of Honey) and Elise Levine (Blue Field).
—
Blue Field is a trippy, sensational, murky and gorgeous novel about risk and grief-addiction through a trio obsessed with underwater diving—Kirkus called it "A transgressive, gut-wrenching portrayal of grief that asks what it's like to drown."
The Discovery of Honey is a suite of short stories narrated by a precocious and nosily omniscient central character named Hero. Not one to hide her light under a bushel, nor to conceal significant—usually scandalous—happenings in her rural community (including her own conception, birth, and various other unruly incidents that occur throughout her young life), Hero is forthright in dishing the dirt about herself, her family, and nearly everyone she's come to know. Like a backwater Tristram Shandy, it's funny business all around.
—
Elise Levine is the author of the story collection Driving Men Mad and the novel Requests and Dedications. Her work has also appeared in Blackbird, Ploughshares, The Journey Prize Anthology, and Best Canadian Stories. Originally from Toronto, ON, she now lives in Baltimore, MD, and is Director of the MA in Creative Writing at Johns Hopkins University.
Terry Griggs is the author of the Cat's Eye Corner Trilogy, which, consisting of the books Cat's Eye Corner, The Silver Door, and Invisible Ink, have been nominated for multiple children's writing awards. She is also the author of three novels for adults, including Thought You Were Dead, listed as a Globe 100 pick, and the Roger's Writers Trust nominated Rogue's Wedding. Her short fiction collection Quickening was shortlisted for the Governor General's Award, and she has been awarded the Marian Engel Award in recognition for a distinguished body of work. She lives in Stratford, ON, with her family.
Location
Biblioasis
1520 Wyandotte St E
Windsor, Ontario