Date
Friday November 20th, 2015
Time
See Description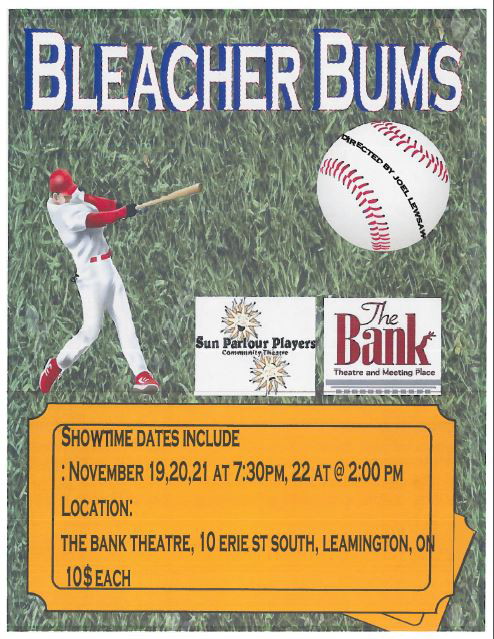 LDSS (Leamington District Secondary School) Players present "Bleacher Bums" on November 19th, 20th and 21st at 7:30 pm. and November 22nd @2:00 pm. This comedy-drama is directed by Joel Lewsaw.
"There are people who like to watch a ball game every once in a while, and then there are baseball fans, individuals of rare dedication whose passion for their favourite team defies conventional logic. This comedy-drama follows a group of fans whose devotion to their hometown heroes is rarely tainted by the fact that they almost never win."
We hope you'll join us at The Bank Theatre and Meeting Place as we meet fans, Decker, Marvin, Zig, Richie, Melody, and Greg.
All tickets are $10. and are available at Counter Effects, 2 Iroquois Drive, Leamington, and at the door.
Location
The Bank Theatre and Meeting Place
10 Erie Street South
Leamington, Ontario