Date
Saturday February 4th, 2017
Time
See Description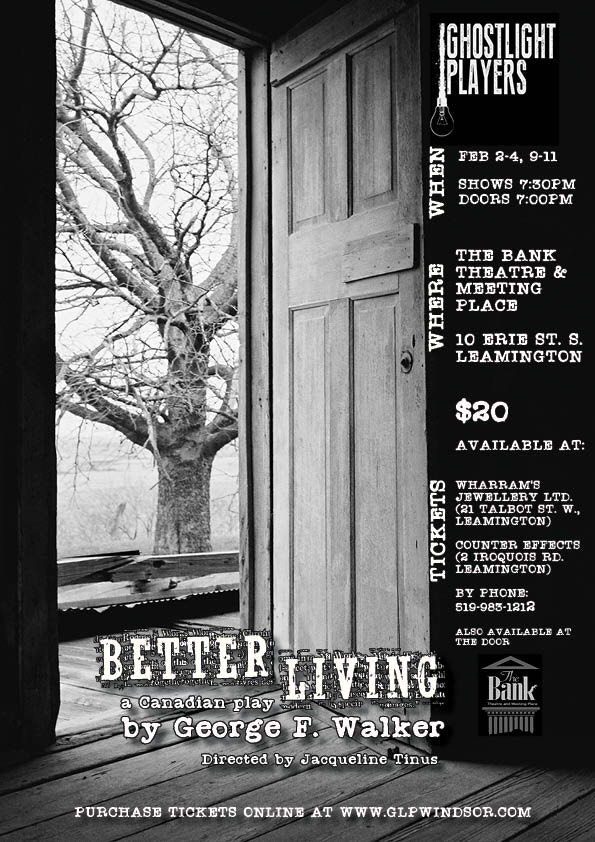 Better Living is a Canadian piece, written by George F Walker in the late 80s. This play is the second in a series of plays called 'The East End' plays, and all tend to feature the same characters and follow their lives and developments. In this particular place, we focus on the family surrounding Gail, the youngest of three sisters. She has just moved back home with her criminal boyfriend Junior and is trying to deal the idiosyncrasies of her mother, Nora.
Meanwhile, Gail's sisters have come home as well, which brings so much happiness to Nora, since the 'disappearance' offer husband. Truth is, Nora and her brother, a priest doubting his faith, Jack have attempted and possibly succeeded in killing Tom. Tom was a bully and a dictator that had a profound effect on everyone in the family.
Besides Nora and Gail, there's Elizabeth, a former prostitute who has become a lawyer and is now focussing her interests on politics. And then there's Maryanne, a weak bird of a sister who can't handle motherhood or even the pressures of marriage, so has run away from both.
None of this matters a whit to Nora who's more than happy to be there to oversee and support her children.
All of that changes when Tom returns, and with him, his draconian policies.
SHOW DATES:
FEB 2-4, 9-11.
ALL SHOWS AT 7:30 PM AT THE BANK THEATRE & MEETING PLACE.
DOORS OPEN AT 7PM.
TICKETS $20.00.
TICKETS AVAILABLE FOR PURCHASE AT:
Wharram's Jewellery
21 Talbot Street West
Leamington, Ontario
Call: 519-326-9271
Or
Counter Effects
2 Iroquois Rd
Leamington, Ontario
Call: 519-326-4014
Online https://ghostlightplayers.yapsody.com/event/index/57305/better-living
Location
The Bank Theatre and Meeting Place
10 Erie Street South
Leamington, Ontario