Date
Saturday August 26th, 2017
Time
3:00pm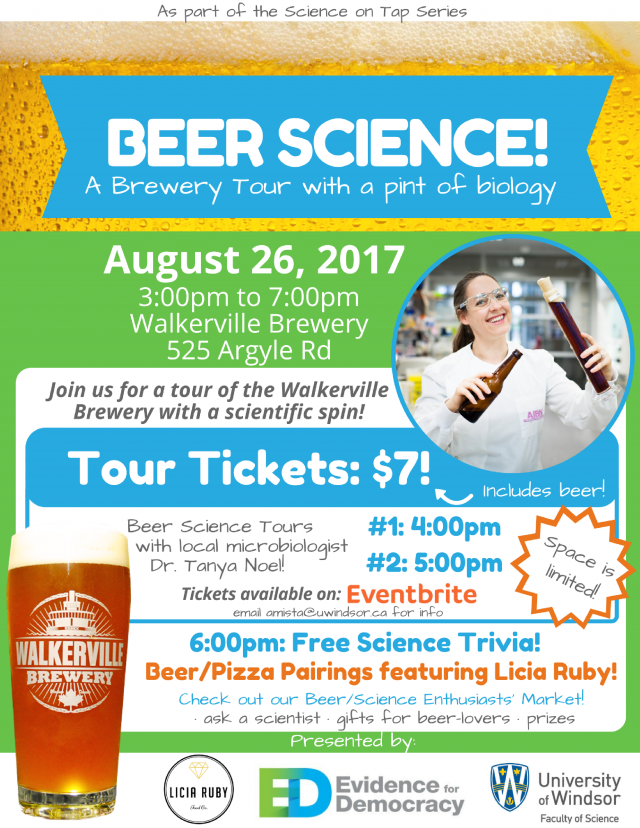 Many people will tell you that brewing beer is an art. If you are a beer lover, you know what type of brew you fancy most -but do you know what processes cause these different styles and flavour profiles to come to be? That, my friend, is where the science comes in!
Join us as we get a tour of the Walkerville Brewery from their brewer with a side biology lesson from Dr. Tanya Noel, a microbiologist at the University of Windsor. Following the tour, we'll have some beer-themed and Canadian science trivia! We will also have a selection of items for purchase from local artisans celebrating the love of beer and science.
Beer is never fully complete without pizza, so Licia Ruby Food Co. will also be on hand preparing Roman-style pizza slices for our enjoyment, conveniently paired with Walkerville brews. Stay tuned for the menu!
Schedule of Events:
3:00pm: Doors open, science mingle, sign in for prizes!
4:00pm: Brewery Tour #1 (with a pint of biology)
5:00pm: Brewery Tour #2 (with a pint of biology)
6:00pm: Free 'Beer Science' Trivia, hosted by Mack Flash Entertainment (sponsored by the Biology Department at the University of Windsor)
This event is presented by Evidence for Democracy and the University of Windsor, Faculty of Science. E4D is the leading fact-driven, non-partisan, not-for-profit organization promoting the transparent use of evidence in government decision-making in Canada. Through research, education and issue campaigns, we engage and empower the science community while cultivating public and political demand for evidence-based decision-making.
Tour tickets are limited, so buy your ticket today!
Location
Walkerville Brewery
525 Argyle Road
Windsor, Ontario