Date
Sunday September 14th, 2014
Time
3:00pm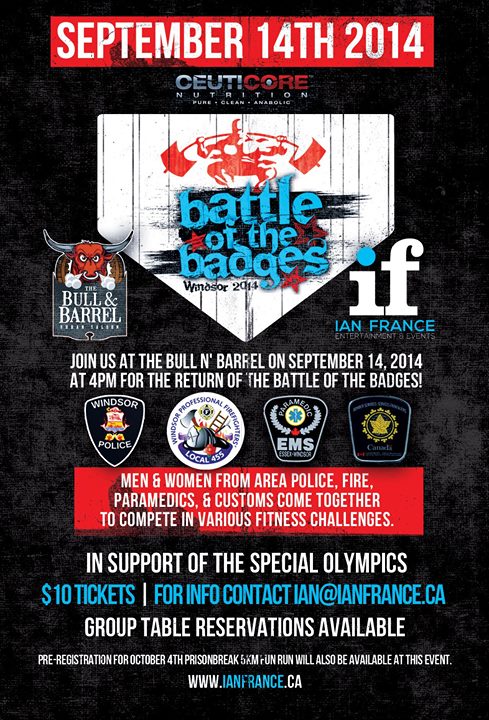 Help us spread the word by Inviting or Sharing this Event Page. Your assistance is appreciated.
Join us at The Bull n' Barrel on September 14, 2014 at 4pm for the return of the Battle of the Badges!
Men & Women from area Police, Fire, Paramedics, Customs and the new Provincial Jail, come together to compete in various fitness challenges. Keeping sportsmanship in mind, you can still expect an incredibly competitive atmosphere, between all these emergency services!
In support of Special Olympics, these fit civil servants will attempt to raise money for a worthy cause.
This event is expected to sell out so get your tickets so your not left out.
$10.00 tickets
Group Table reservations available for info
contact [email protected]
Stay up to date on this event and many more. Simply LIKE Ian France Entertainment & Events page.
Pre-Registration for October 4th PrisonBreak 5KM fun run will also be available at this event.
Location
The Bull n' Barrel
670 Ouellette Avenue
Windsor, Ontario