Date
Friday June 20th, 2014
Time
6:00pm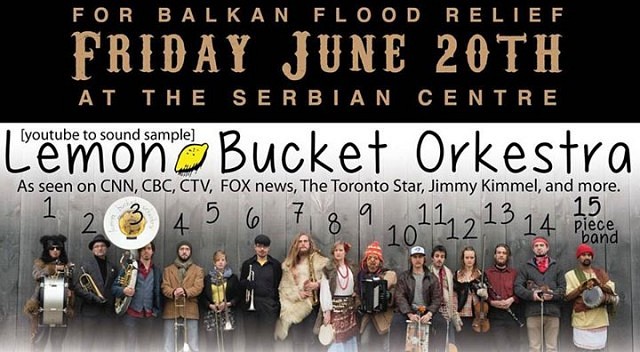 Balkan Sear-Kuss Village Concert
Serbian Flood Relief Event
June 20th 2014 7:00pm
Join us for the first ever "Balkan Sear-Kuss Village Concert" featuring the Lemon Bucket Orkestra and Lika Orkestra. Simply put, these groups are a mix of Balkan-Klezmer-Gypsy-Party-Punk-Super Mix of Balkan music smacked with the fun and frolic of Balkan Culture!
From Toronto to New York, Budapest to Berlin, audiences around the world are hailing the Lemon Bucket Orkestra as folk music revolutionaries. This 15 piece guerrilla force has an army of followers and fans both at home and abroad.
Those discovering the band for the first time quickly realize that their shows are more than concerts; they're wild, joyful experiences rarely contained for walls; they're celebrations of tradition and culture expressed with an explosive punk spirit; they're ecstatic street parades that erupt from the collision of nostalgia and imagination.
The Lemon Bucket Orkestra made headlines (such as CNN, CBC, Fox News and CTV), on their way to Romania for a three-week tour, when they played an impromptu concert on a delayed Air Canada flight.
In September 2013, the band was nominated in four categories at the Canadian Folk Music Awards.
In February 2014, Lemon Bucket Release of Lume, Lume was nominated for a Juno Award in the category of "Best World Music Album"
In March 2014, the band was nominated for an Indie Award by Indie88 for "World Artist/Group or Duo of the Year".
This will be the first appearance for the Lemon Buckets in the Windsor Essex Area. A FREE Dance Workshop will be provided by the Lemon Buckets at the Serbian Village Gracanica Carrousel of Nations in Kosovo Hall at the Serbian Centre 6770 Tecumseh Rd E, Windsor, ON Friday June 20th 9:15pm
Portions of proceeds will be directed to the Aid For Families affected by the Flood in Serbia and Republic of Serbia. All donations will go directly to the bank accounts set up by the governments of Serbia and Republika Srpska.
Also appearing – Lika Orkestra, an acoustic Serbian Tamburaši band from Toronto, formed in 1967 in Toronto with founding members Milan Sanader, and John and Michael Lukich. The name originated from the fact that their fathers were Serbs from LIKA. They are well seasoned Balkan vets specializing in weddings, parties, and 'bar band' situations.
Traditional Food and Drinks will be available for purchase at the event.
Limited tickets available. Buy Now at >>> www.aidforserbiawindsor.com
$17.00 Advance
$20.00 At the Door
Location
Serbian Centre
6770 Tecumseh Road East
Windsor Ontario