Date
Friday November 20th, 2015
Time
7:00pm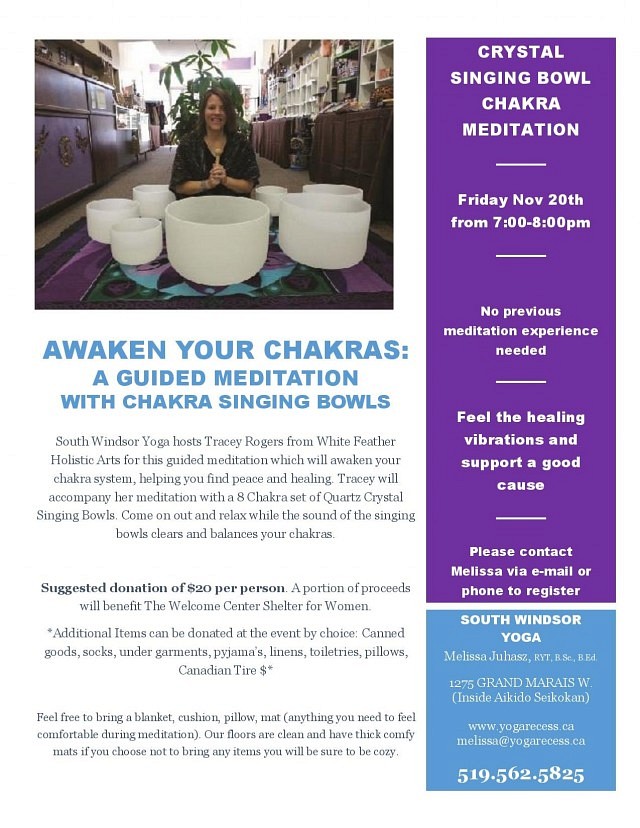 This event is being held to collect money and goods for The Welcome Center Shelter for Women. Suggested donation of $20 per person.
South Windsor Yoga hosts Tracey Rogers from White Feather Holistic Arts for this guided meditation which will awaken your chakra system, helping you find peace and healing. Tracey will accompany her meditation with a 8 Chakra set of Quartz Crystal Singing Bowls.
Come on out and relax while the sound of the singing bowls clears and balances your chakras. Feel free to bring a blanket, pillow, cushion, mat or anything that will make you feel comfortable during meditation. Note: The floors of the studio are already covered with comfy mats
Additional Items can be donated at the event by choice: Canned goods, socks, under garments, pyjama's, linen's, toiletries, pillows, Canadian Tire $.
Please contact Melissa Juhasz via email ([email protected]) or phone (519-562-5825) to reserve your space. Space is limited.
Location
South Windsor Yoga
1275 Grand Marais West
Windsor, Ontario