Date
Saturday December 12th, 2015
Time
7:30pm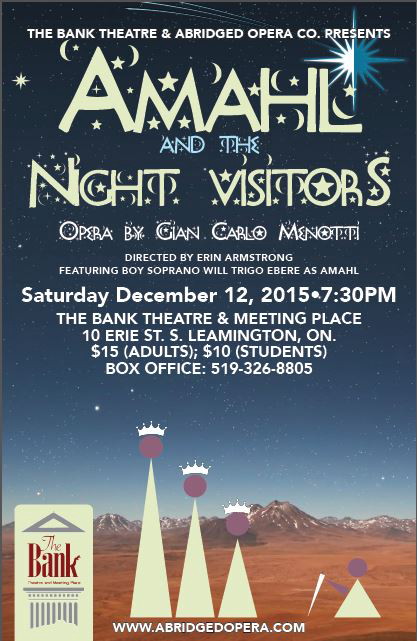 Please join us at The Bank Theatre and Meeting Place
on Saturday, December 12th at 7:30 p.m. as The Bank Theatre & Abridged Opera Company Presents . . .
AMAHL and the NIGHT VISITORS
Based on Italian folk tales of the Nativity and Epiphany, Cian Carlo Menotti's Opera, "Amahl and the Night Visitors" is a retelling of the story of the Magi from the point of view of a young disabled boy named Amahl who lives in poverty with his widowed mother near Bethlehem. He sees a bright star in the sky one night and tells his mother to look, but she brushes him off, buried in concern over their bleak future and lack of means of support. That night, three kings come across their meagre hut and seek shelter, for they have traveled long and far following the star seen by Amahl. They bring with them treasure and gifts to give to "the Child" who has just been born and who will reign over all. Blinded by the lure of the gold and what it could do for her family, the mother attempts to steal just a bit of the treasure, but is caught red-handed. What no one expects is a gift far greater than gold! Blessed by the Child, Amahl finds himself suddenly cured of his disability. A vivid and accessible tale originally created for television, Amahl and the Night Visitors is a perfect first opera — or hundredth!
This opera is directed by Erin Armstrong and features boy soprano, Will Trigo Ebere as Amahl. Running time is 50 minutes but If you would enjoy a longer performance, each performer has prepared a Christmas piece to be included in a short sing-a-long.
Tickets are $15. (Adults) and $10. (Students) and are available at Wharram's Jewellery, Talbot Street West and Counter Effects, Iroquois Drive, both in Leamington.
Telephone 519-326-8805
Email: [email protected]
Website: www.banktheatre.com
Facebook: TheBankTheatre
Location
The Bank Theatre and Meeting Place
10 Erie Street South
Leamington, Ontario