Date
Saturday August 5th, 2017
Time
10:00am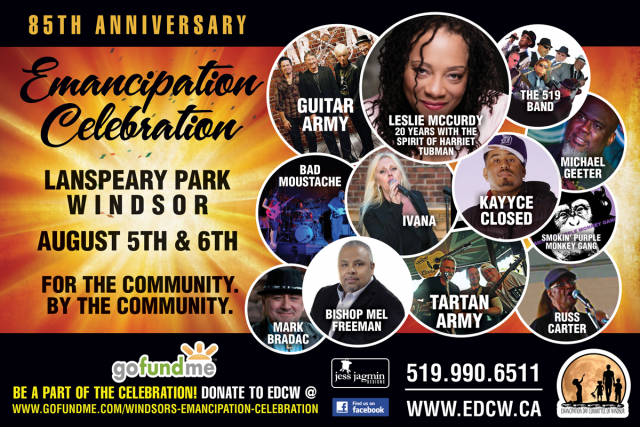 August 5th & 6th. Fabulous fun for all ages!
Emancipation Celebration returns to Lanspeary Park to showcase some of Windsor's finest talents. Live music from The 519 Band, Guitar Army and many more. Leslie McCurdy performs her 20th anniversary rendition of The Spirit of Harriet Tubman.
Lots of games and activities for the kids, including appearances from D&D Mascots, Zoo2You, Maracas Entertainment, Border City Barkers, NorthStar Cheer! and many more!
Sunday morning Sunrise Service with Bishop Mel Freeman and the City Church Choir and of course, that signature BBQ Village with dishes prepared by Jimmy G's Bar & Grill, Handsor Smoke and Gino's Pizza.
Two days of fun for kids of all ages. Save the date! See you there!
Special thanks to Long&McQuade, WFCU and all of our GoFundMe Campaign supporters!
Location
Lanspeary Park
1250 Lanaglois Avenue
Windsor, Ontario