Date
Saturday May 17th, 2014
Time
7:30pm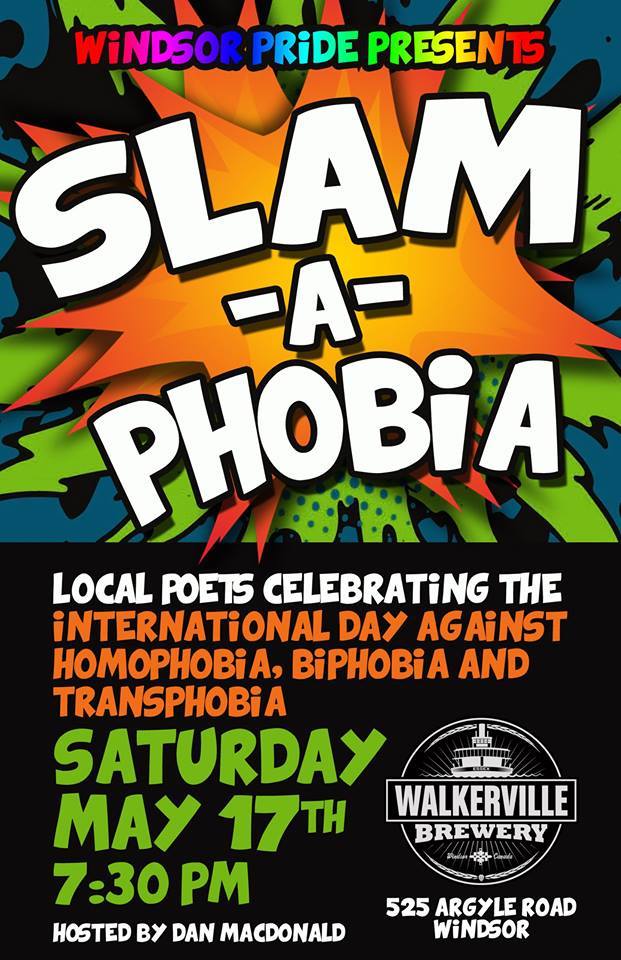 FOR IMMEDIATE RELEASE
Organization: Windsor Pride Community
Tel: 519-980-9763 – Email: [email protected]
WINDSOR PRIDE COMMUNITY SET TO "SLAM" HOMOPHOBIA, TRANSPHOBIA AND BIPHOBIA AT 5TH ANNUAL POETRY EVENT: "SLAM-A-PHOBIA"!
The 5th Annual "SLAM-A-PHOBIA", hosted by local poet and activist Dan MacDonald coincides with The International Day against Homophobia, Biphobia and Transphobia, which takes place every May 17.
People from the community of all orientations will perform spoken word/poetry pieces dealing with sexuality, self-acceptance, bullying and homophobia.
The event is unique in that it allows feedback from the community, directly addressing the issues of homophobia, biphobia and transphobia in Windsor-Essex.
Formerly "Slam Homophobia" – the event name is changed this year to "SLAM-A-PHOBIA" to make it inclusive to Windsor's Bi and Trans community and be reflective of EVERY aspect of the day.
Fun, informative, heart-wrenching, and sometimes hilarious – "SLAM-A-PHOBIA" explores perspectives and thoughts on the impact homophobia has had on all of us.
Many members of the straight community come out to offer their own experiences with homophobia – and of course members and allies of the LGBT community will share their stories as well.
"SLAM-A-PHOBIA" is a bridge – connecting all orientations through poetic expression and honest story-telling.
"SLAM-A-PHOBIA" takes place Saturday May 17th at 7:30pm at Walkerville Brewery – a new location for this year!
CONTACT: DAN MACDONALD – 519-980-9763 [email protected]
Location
Walkerville Brewery
525 Argyle Road
Windsor, Ontario