Date
Friday October 18th, 2013
Time
4:30pm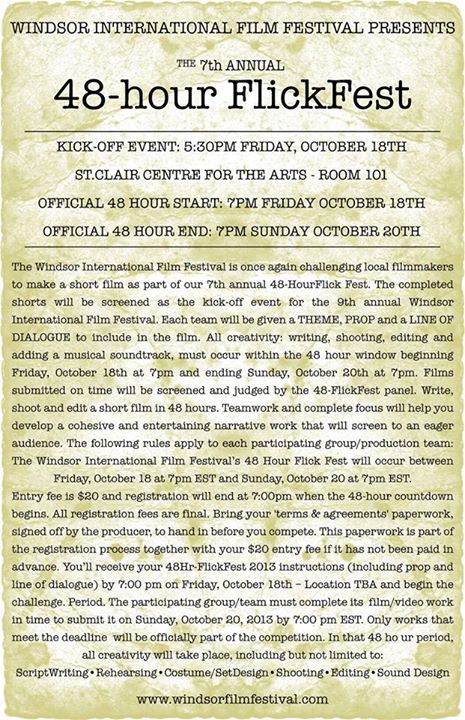 48 Hour Flick Fest
The Windsor International Film Festival is once again challenging local filmmakers to make a short film as part of our 7th annual 48-HourFlick Fest. The completed shorts will be screened as the kick-off event for the 9th annual Windsor International Film Festival.
Each team will be given a THEME, PROP and a LINE OF DIALOGUE to include in the film. All creativity: writing, shooting, editing and adding a musical soundtrack, must occur within the 48 hour window beginning Friday, October 18th at 7pm and ending Sunday, October 20th at 7pm. Films submitted on time will be screened and judged by the 48-FlickFest panel.
Getting Started
Gather a team (8 people maximum) and select 1 person to be the producer.
Pre-Registration & Registration
We ask that you pre-register by emailing [email protected] with an approximate number of team members.
We encourage all team members to come to the 48-hour kickoff, but at least one representative, that of the "producer", must be present. The producer must be present to sign in any team.
A team representative must be at the kickoff with completed forms, starting at 5:30 pm.
Kickoff Location:
Friday, October 18th, 5:30pm
St. Clair Centre for the Arts
Room 101
Entry fee is $20 and registration will end at 7:00pm when the 48-hour countdown begins. All registration fees are final. Bring your 'terms & agreements' paperwork, signed off by the producer, to hand in before you compete. This paperwork is part of the registration process together with your $20 entry fee if it has not been paid in advance.
You'll receive your 48Hr-FlickFest 2013 instructions (including prop and line of dialogue) by 7:00 pm on Friday, October 18th – Location TBA and begin the challenge.
You'll then have the next 48 hours to complete your film.
Location
St. Clair Center for the Arts
201 Riverside Drive West
Windsor, Ontario