Date
Wednesday February 11th, 2015
Time
See Description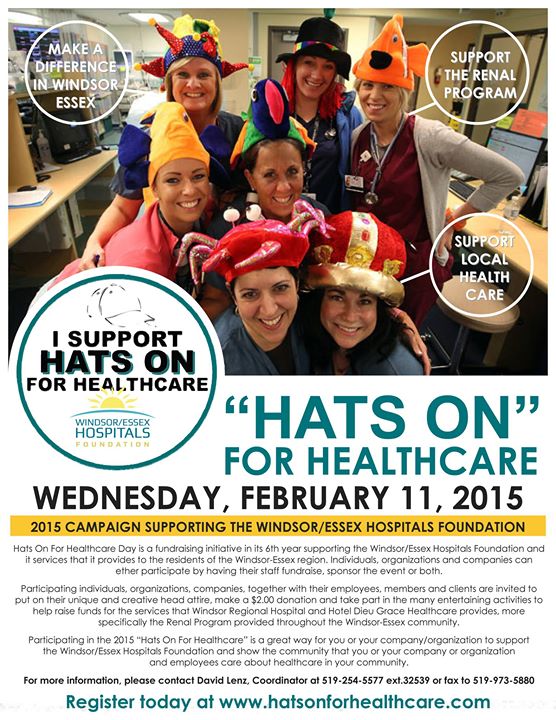 Hats On For Healthcare Day is a fundraising initiative in its 6th year supporting the Windsor/Essex Hospitals Foundation and it services that it provides to the residents of the Windsor-Essex region. Individuals, organizations and companies can ether participate by having their staff fundraise, sponsor the event or both.
Participating individuals, organizations, companies, together with their employees, members and clients are invited to put on their unique and creative head attire, make a $2.00 donation and take part in the many entertaining activities to help raise funds for the services that Windsor Regional Hospital and Hotel Dieu Grace Healthcare provides, more
specifically the Renal Program provided throughout the Windsor-Essex community.
Participating in the 2015 "Hats On For Healthcare" is a great way for you or your company/organization to support
the Windsor/Essex Hospitals Foundation and show the community that you or your company or organization
and employees care about healthcare in your community.
For more information, please contact:
David Lenz, Coordinator
Phone: 519-254-5577 ext.32539
Fax: 519-973-5880
Register today at www.hatsonforhealthcare.com
Location
Throughout Windsor-Essex
Windsor, Ontario