Date
Sunday January 18th, 2015
Time
10:00am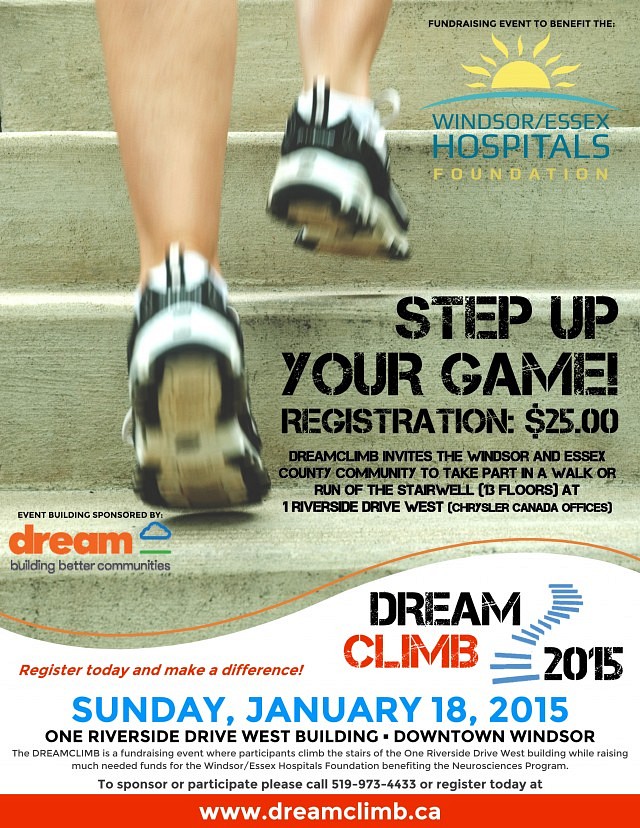 DREAMCLIMB
Sunday, January 18, 2015
1 Riverside Drive West
STEP UP YOUR GAME on Sunday, January 18, 2015 with the Windsor/Essex Hospitals Foundation where they will hold the 2015 DREAMCLIMB event at One Riverside Drive West (Chrysler Canada offices).
DREAMCLIMB is a fundraising event that invites the Windsor and Essex County community to take part in a walk or run of the stairwell (13 floors) of the Chrysler Building at 1 Riverside Drive West on Sunday, January 18, 2015. DREAMCLIMB supports the Neurosciences Program at the Ouellette Campus of Windsor Regional Hospital. The 'Neuro' Program provides care for complex trauma brain injuries, spine injuries, cancer issues, stroke related issues, brain aneurysms and degenerative diseases.
To register please visit www.dreamclimb.ca or contact us at 519-973-4433.
Location
Chrysler Building
1 Riverside Drive West
Windsor, Ontario