Date
Thursday August 21st, 2014
Time
6:00pm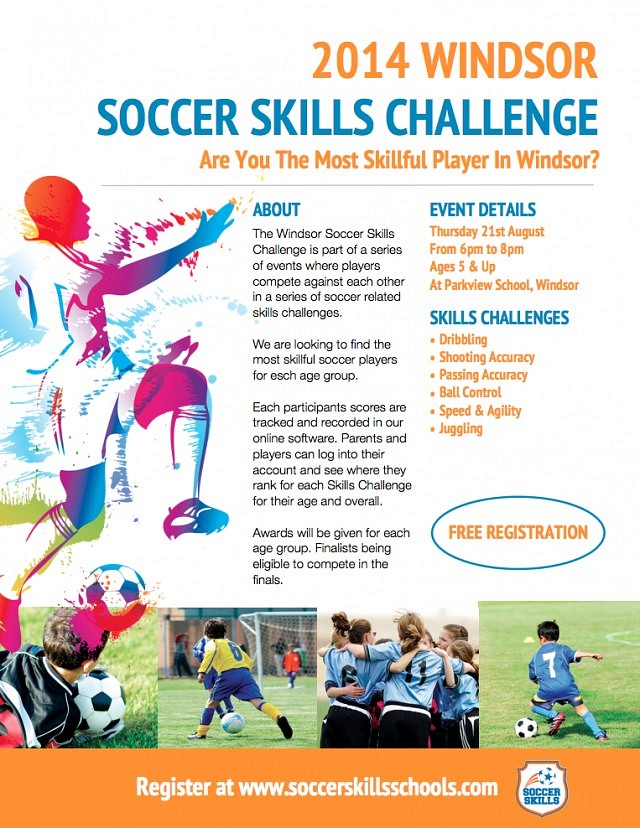 Do you have what it takes to be the 2014 Soccer Skills Champion? Hosted by Soccer Skills we invite boys and girls ages 5 and up to come and compete in a series of Soccer Skills challenges to decide who are Windsors most skillful players.
The Windsor Soccer Skills Challenge is part of a series of events where participants compete against each other in a series of soccer related skills challenges. Each participants scores are tracked and recorded in our online software. Parents and players can log into their account and see where they rank for each Skills Challenge for their age and overall.
Skills Challenges Include:
Dribbling
Shooting Accuracy
Passing Accuracy
Ball Control
Speed & Agility
Also included at the event will be free refreshments and some fun soccer games and contests. Awards will be given for each age group with the finalists being eligible to compete in the regional finals.
Location
Parkview School
3070 Stillmeadow Road
Windsor, Ontario