Date
Saturday November 15th, 2014
Time
7:00pm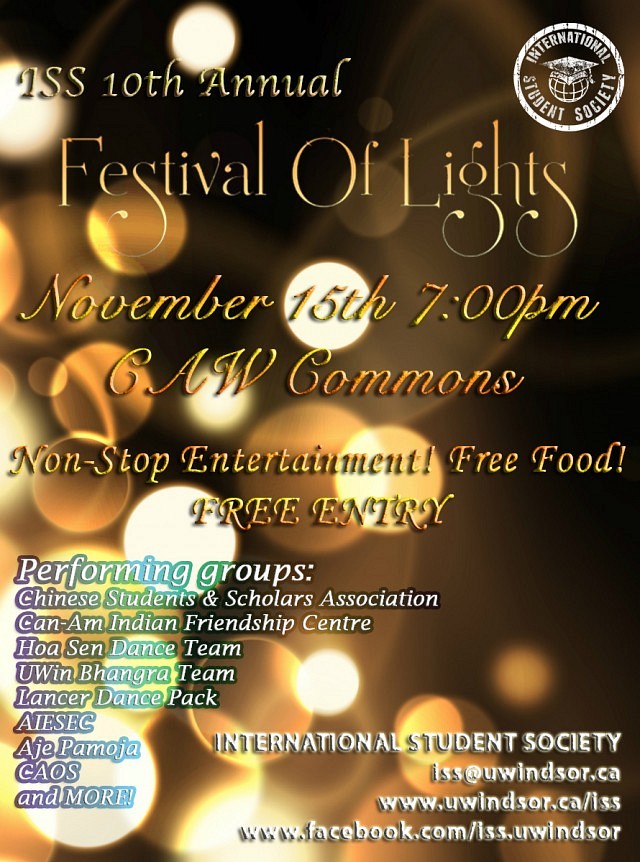 Festival of Lights is organized annually by ISS (International Student Society), it is a free and public event, in which sought to invite every individual in Windsor to come have a taste and celebrate the diverseness that we pride, by enjoying different cultures through performances and cultural booths.
As a valued member of the University of Windsor family , you are cordially invited to the above introduced extravaganza. Please make sure to mark your calendar to attend this once-in-a-year festivity. You will be greeted by fine performances and free food!
DID WE MENTIONED THIS IS A FREE EVENT?
Come join us with for a night full of art and culture around the Windsor community!
What are you waiting for, mark this down onto your calendar now!
Performing groups:
AIESEC
Aje Pamoja
CAOS
Can-Am Indian Friendship Centre
Chinese Students & Scholars Association
Hoa Sen Dance Team
Lancer Dance Pack
UWin Bhangra Team
POSTS
Email: [email protected]
Website: www.uwindsor.ca/iss
Facebook: https://www.facebook.com/iss.uwindsor
Location
CAW Commons, University of Windsor
401 Sunset Avenue, Windsor
Windsor, Ontario