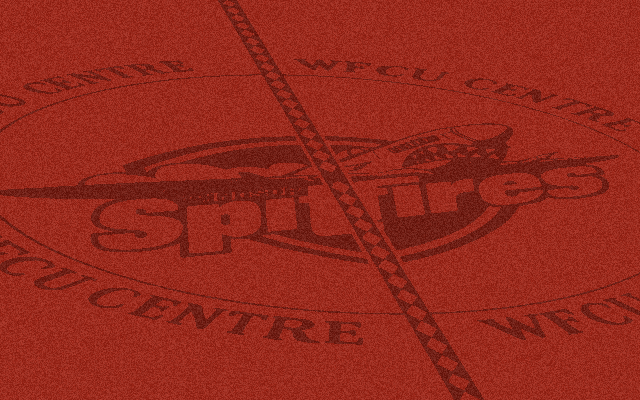 Black Friday has come and gone, but it was red inside the WFCU Centre. The Windsor Spitfires lit the red light five times – scoring three in the third – and easily handled the visiting Saginaw Spirit. Windsor won the one-sided bout 5-1.
A little over a minute into the game, the physical presence was made. Logan Stanley and Keaton Middleton scrapped to set the tone for the game. It was sure to be a black and blue Friday. With the energy in the building a little higher after the tussle, the Spitfires started their scoring spree. On his first of two goals, Christian Fischer\s sharp angle shot from the right circle was too hot to handle as the Spits scored first. Windsor would pick up a two-goal lead later thanks to Anthony Stefano's wrap-around. The forward grabbed his own rebound and circled the net, speedily beating the goalie and the defender. The Spits were playing well defensively, but the Spirit managed to beat goalie Garret Hughson. The puck was thrown to the net, but hit traffic on its way. Kris Bennett scooped it up and put it past the goaltender. The visiting goal wrapped up the scoring for the first period, with Windsor leading 2-1 after 20 minutes.
In a well-balanced middle frame, the Spits and Spirit delighted fans at both ends. Windsor put pressure on the Saginaw defense, while Hughson stood tall in his net to make some timely saves. Despite their fair share of chances, neither team would net a goal in the second, leaving the score in tact by the end of the period.
One period remained, and it was clear early on that Windsor would dominate. Two and a half minutes in, Fischer scored his second of the game on a wrap-around that snuck between the goalie's pads. After regaining its two-goal lead, Windsor maintained the pressure. It was no surprise that the Spits would add a fourth goal less than two minutes later. Daniel Beaudoin found Bradley Latour in the slot as he a let a shot into the back of the net. Latour was fired up, and for good reason. Windsor hadn't played this well in a couple of weeks. The team unloaded in the third, and really found the spark that had been missing. Near the midway point of the period, Gabriel Vilardi got on the scoresheet to close out the scoring. When a Saginaw defender fell, the Spits took control of the puck. Stefano grabbed the loose puck from the left circle and sent it to Gabriel Vilardi, alone in front. He simply tapped it up and over the goalie's glove for the goal. Windsor's fire was reignited as they blew past the Saginaw Spirit 5-1.
The Spitfires are back at the WFCU Centre Sunday, November 29th at 2:05pm to battle the London Knights.