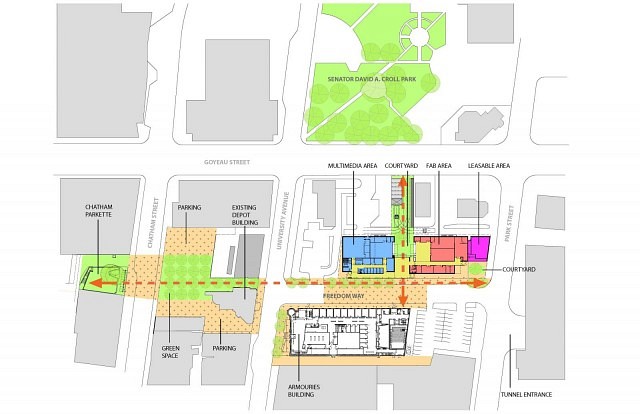 The University of Windsor has purchased the Tunnel Bar-B-Q site as an alternative location for the arts programs originally planned for the Bus Depot property.  Tunnel Bar-B-Q is set to close later this year.
The Tunnel Bar-B-Q site is located directly to the east of the Armouries building, and the University says both properties will become the new home for the University's School for Arts and Creative Innovation. The Bus Depot site will be a part of the University's downtown campus as originally planned, with the intent to eventually repurpose the existing building for other support programming.
Dr. Wildeman, President and Vice-Chancellor said, "We are pleased to secure an ideal footprint in Windsor's downtown core with the purchase of the Tunnel Bar-B-Q property. The new building on this site will house studio space to complement the programming in the Armouries to the west. We were unable to pursue new construction on the Bus Depot site considering various unique construction challenges caused by its location over the Detroit Windsor Tunnel. The TBQ property has enjoyed a very high profile in the region as the home of the landmark restaurant at the entry point to Canada from the Detroit Windsor tunnel. We see great benefit of this location for the profile of the University of Windsor and for the exciting work of our creative artists."
The University states that the generous dimensions of the TBQ site will accommodate the two diverse needs of the program, which can be categorized into clean and controlled space for the Multi-Media and Film Production studios, versus rugged and creative space for the Making Fabrication Labs for metal work, printmaking and sculptural activities.
Craig Goodman, Principal at CS&P Architects Inc. explained, "The site will be developed as two distinct buildings, each harbouring the vital architectural components and acoustic treatments specific to the program, and stitched together by a third element as a shared and transparently inviting student lounge space visually connected to Freedom Way."
The three building components will be arranged around a working outdoor arts courtyard that will allow student activities to flow seamlessly between the inside and outside.
"This is another exciting announcement by the University of Windsor and again reinforces their commitment to contribute to the vibrancy of downtown," said Mayor Eddie Francis. "I am pleased that the university will still find a use for the former bus depot and is adding yet another dynamic to this creative corridor. We look forward to welcoming students and faculty to their new home in the fall of 2016."
The University purchased the TBQ property for $4 million and the new building will cost an estimated $8.5 million. Funding for this project will come from the University's existing bond proceeds and fundraising. Construction of both the Armouries and the TBQ site will begin this year and be built in tandem, with an opening set for the fall of 2016.