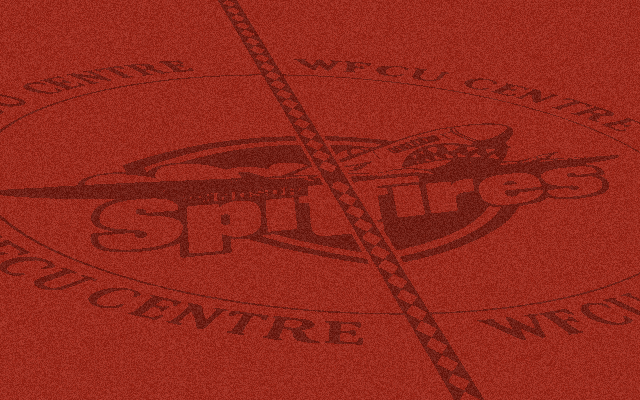 Just as the city itself has been in January, the team was on a similar cold streak. Last night, in Plymouth, the Spitfires decidedly got their first win in 7 games. Today, they were still riding that wave of momentum. Brady Vail contributed on each of Windsor's three goals and Alex Fotinos turned away 32 of 33 shots. The Spitfires got back on track and defeated the Sudbury Wolves 3-1 Sunday afternoon, at the WFCU Centre.
Vail's goal and two assists earned him the first star.
Windsor's defense certainly stepped up from previous games. It was evident from the drop of the puck. The offense picked up as well, completing passes and moving the puck. Despite the chances, both teams were at a stalemate at the end of the first, with the game remaining scoreless.
A Windsor penalty just 37 seconds into the second period would seemingly set back the Spitfires. They were ready and able though. Brady Vail sprung Sam Povorozniouk free on a breakaway. He made a quick backhand-to-forehand move and slipped the puck behind Franky Palazzese. The Spits had another shorthanded chance on the same man-advantage, but the Wolves were sturdy. As each squad had their handful of opportunities, Sudbury struck next to tie the game. Fotinos got the left pad on Nathan Cull's shot, but the puck rebounded back to Cull. His backhand beat the goaltender to even the score at one before the end of the second. For the most part, Windsor was able to shut down the Wolves.
The teams entered the final period each looking for the game's vital next goal. Who better than Brady Vail to set off the red light? First, Josh Ho-Sang skated down low before finding Vail in the circle. His shot was no match for Palazzese as the Spits regained the advantage. Sudbury tried for the equalizer, coming close a few times. However, Windsor's defensive units stood strong, and Fotinos stayed solid. The defense was playing well, and the offense was playing just as great. The Spitfires were then rewarded for their hard work. On a power-play, while cycling the puck, the stars connected once more. Ho-Sang made a one-touch pass to Vail. Vail sent a backhand pass to Trevor Murphy, who let a howitzer go to the top corner. The goal put Windsor up by two.
With less than five minutes to play, Steven Janes tried to make a play around a Sudbury defender. In an effort to stop the Spits forward, Kevin Raine collided knee-to-knee with Janes – a crash that left both players lying on the ice. The collision resulted in a five-minute kneeing major to the Sudbury player, eliminating any hopes of a comeback.
The Spitfires fought off the Wolves to win 3-1 Sunday afternoon.
Windsor has some days off before returning to the WFCU Centre January 30th to battle the Kingston Frontenacs at 7:05pm.