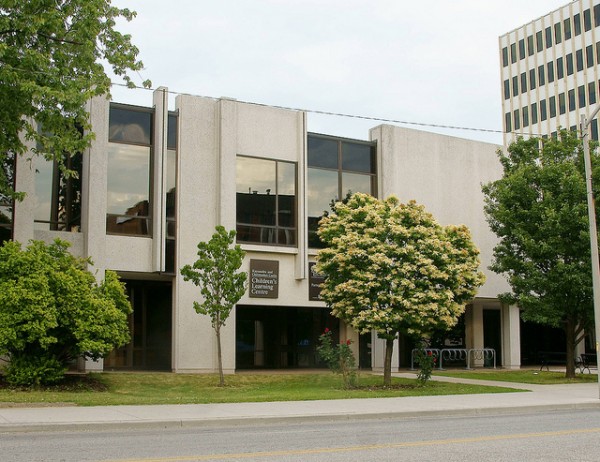 The Windsor Public Library announced that it has now acquired a Xerox Espresso Book Machine™ (EBM) which will be the focus of a new self-publishing area that will be located on the first floor of Central Library on Ouellette. The library will be the only public library in Canada which features a self-publishing area such as this!
The Espresso Book Machine has the ability to allow customers to print custom books while they wait – in the amount of time it takes to get a cup of espresso. The library says that because it is fully automated, customers will find it easy to use. It also offers the opportunity to print professionally-bound copies of their own work, out-of-print and out-of-copyright books and books which a customer may want which we don't have in our catalogue. The machine is a fully-integrated, high-speed, compact solution that automatically prints, binds, and trims – on demand – perfect bound, library-quality paperback books.
"The EBM will be particularly attractive and popular with local authors, historians and others, looking to publish works either on a small scale or for posterity", says WPL Acting Board Chair Hilary Payne. "The service will be ideal for compilations of family history and genealogy, aspiring authors who have written the Great Canadian Novel, and authors wanting to publish electronically – directly to our library catalogue."
As well, with the acquisition of the Espresso Book Machine comes access to over 3.3 million titles in multiple languages. Tools also provide access to editing, typesetting, proofreading, and cover design, in the Espresso store or online. Windsor Public Library will have the ability to provide printed volumes of obscure titles, alleviating the need for—and cost of—storage and archiving. Cost-effective book production on the EBM is significantly more economical than expensive storage.
Customers can download their own files from the web or upload their own files from a CD or flash drive for production on the EBM. The accompanying self-publishing tools simplify the process for customers.
Customers using the EBM will be asked to pay a set-up fee of $15, which includes consultation with the Self-Publishing Facilitator, who ensures your book is correctly formatted and ready to print; uploading of the book to the EBM; a colour copy proof of the cover; and assistance with cataloguing and copyright registration. Charges for printing include a $2 fee and $.04/page per copy. Customers printing from the catalogue will be paying the cost of the books as listed. These costs are subject to Windsor Public Library Board approval.
The monthly lease cost for the EBM is $5,087, which includes a comprehensive maintenance program. A staff person has been selected to run the program and began duties on May 7th.
The library anticipates having the self-publishing area will open at the end of May or early June.